The Library Kitchen + Bar
06 Jun 2022
Local ingredients take center stage at reimagined restaurant space
By Kay West
Photos by Chelsea Cronkrite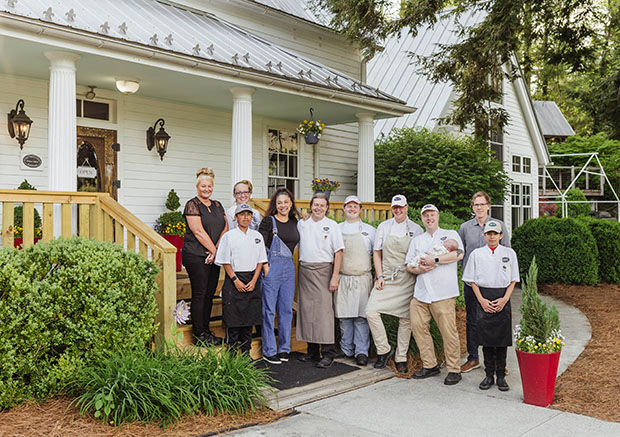 Chef Johannes Klapdohr, who with his wife, Liz, and partners Helene and Marvin Gralnick own Library Kitchen + Bar, makes it clear that, "It was always our idea to serve three demographics in the area—the full-time locals, the part-time locals and travelers to our area."
On a weekday evening in mid-spring, it's hard to tell the difference. The smiling hostess stationed inside the front door of the 158-year-old farmhouse is likely to greet locals by name, and if from behind the bar mixologist Molly Aldredge spies a pair of full-time locals arrive, their favorite cocktail will be shaken, stirred and poured before they take a seat. But even first-time visitors will feel genuinely welcome and treated as treasured friends.
For that, chef credits his wife.
"Liz has brought the heart and soul into the restaurant and created the wonderful warm atmosphere. For us, everyone is family; it's how we treat our employees and guests."
That has been the Library's simple and successful guiding tenant since its sold-out opening night New Year's Eve 2016.
While the history of the building, the land it is on and the families that have farmed it is long and storied, it pales in comparison to Klapdohr's entwined personal and professional timeline.
Born in Germany to a family of four generations of hoteliers, restaurateurs and chefs, Klapdohr grew up in his parent's hotel, assisting his father in the kitchen. From a young age, he knew he wanted to become a chef and planned his studies, chose his teachers and took positions accordingly, driven to learn from the very best chefs in the world.
He brought his experience to the U.S. in 1996; two years after arriving in Atlanta, the Michelin Star-trained chef was named Chef de Cuisine at Nikolai's Roof. In 2004, he became executive chef at the Mobile Five Star, AAA five diamond The Lodge of Sea Island Hotel on the coast of Georgia.
In 2009, he helped create the Old Edwards Inn luxury resort in Highlands, and it was there his path crossed with frequent guests Helene and Marvin Gralnick.
"Marvin invited me to his home at Burlingame to talk about opening a restaurant," Klapdohr said.
Gralnick—co-founder with Helene of Chico's women's clothing stores and an accomplished visual artist— shared what he knew of the history of the property where the Sapphire Valley Resort was developed, and where the farmhouse operated as The Library Restaurant and Club until it closed in 2010.
"During our conversation at his home, we developed our core concepts," Klapdohr recalls. "One was that two artists should open a restaurant—his art on the walls and mine on the table."
They maintained the structural integrity of the farmhouse but employed white paint, whitewash and pickling of the wood on the floor and bar to lighten, brighten and modernize, adding color and whimsy with strategic displays of Gralnick's art.
The open kitchen is the most eye-catching and interactive installation in the Library, particularly from one of comfortable seats at the chef bar. From that perch, guests engage Chef de Cuisine Joe Houston with questions and commentary as he moves gracefully and swiftly from station to station.
Adhering to Michelin philosophy, the Library menu is built around ingredients.
"In those restaurants, the chefs and cooks would sit down at breakfast, see what was delivered that morning, write the menu and print it each day. We don't change the complete menu every day or every week, but when something new comes in, we look at where we can place it so there is a constant rotation of dishes."
A luxurious ingot of foie gras and coins of crisped foie gras sausage atop a griddled slice of their signature wild onion and sweet chili corn bread made its debut in the spring with the delivery of fresh rhubarb grown on a nearby farm, combined with cherries for a tangy compote to complement the liver.
Before their seasonal departure, ramps – harvested from the backyard – were used in a chicken main dish and a special cream of wild mushroom soup. A perfectly cut and cooked square of local trout lay atop tender slices of kohlrabi grown for the Library by another local farmer.
"It's exciting to go through the seasons—the first vegetables of spring and then summer with tomatoes and corn and all the colors," Klapdohr says with enthusiasm. "It's impossible for me as a chef to name my favorite season. It's whichever one I am cooking in."
The Library Kitchen + Bar
184 Cherokee Trail, Sapphire, NC