Something for Everyone
04 Apr 2022
A Jones Company strives to cater to all ages, from newborns to nonagenarians
By Judy Royal
Photos by April Rice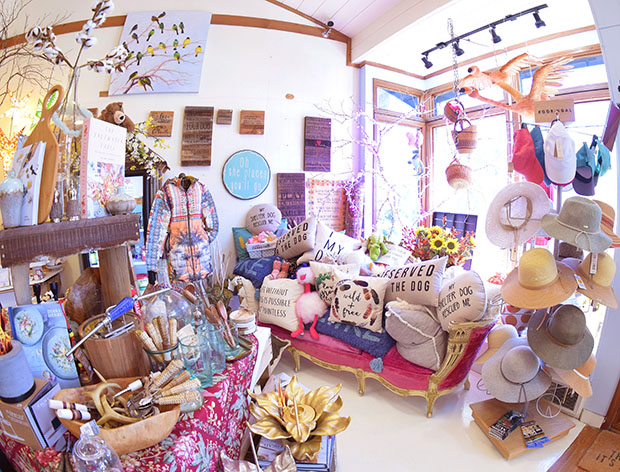 Having a diverse selection of products has always been important to Amy Jones, who opened A Jones Company in Cashiers, NC, in 2014.
"I am so blessed that I hit so many different demographics because I have such a wide variety in the shop that appeals to all different ages," Jones said. "You can buy something for a newborn to a 95-year-old. That's kind of how my business model has always been."
A Jones Company is a boutique offering women's clothing, accessories, home decor, gifts and barware. In 2020, Jones created and launched Cashiers Candy Shoppe, which she describes as "a candy speakeasy," inside the shop. It carries specialty small-batch confections from all over the country, with handmade truffles coming soon.
The business was Jones' way of making a northerly transition in her life. Raised in Stuart, FL, she spent summers in Cashiers since her teen years, later attending and graduating from the University of North Carolina at Asheville. Jones continued to visit Cashiers on a regular basis while raising her five children, and as they became older, she began thinking about where she really wanted to be.
"Growing tired of the heat and excessive congestion in South Florida, I set my sights on creating an adventure in Cashiers full-time," Jones said. "I decided to open a boutique that would offer many items and products that were unavailable on the plateau."
A Jones Company, located in the walkable Chestnut Square area, started two doors down in a smaller building. As things evolved and expanded, Jones moved into her current 1,200-square-foot space, which she owns. Throughout the lifespan of the business, Jones has always focused on the tagline of "provisions for fun living."
Ann Jones, Jones' mother, was a big part of helping her daughter plan the business, and the "A" in A Jones Company is in honor of her as well. She passed away three months before it opened, but the shop has been a way to cope with the loss and keep her memory alive, Jones said.
"It was bittersweet when I opened and my mom wasn't there," she said. "I was still grieving, and this was supposed to be our thing. I didn't really know how it was going to look moving forward. I just kind of went on faith, but I love it. I love my job."
Jones is quick to share her vision and enthusiasm for what A Jones Company has become.
"I want it to be a happy place that people come into," she said. "I want customers to be like, 'Oh, this is fun. Let me escape from my reality and problems for a little bit and hopefully find something to take home.'"
Jones said her goal is to constantly create a fresh look so even her core group of regular customers can have a new experience every time they visit. She said current supply chain issues pose a challenge toward this effort, but otherwise she has no real complaints about her entrepreneurial experience.
"I am so blessed that I get to live and work in this beautiful area," Jones added. "I come to work each day excited to greet and help all of the local folks and visitors alike find a special something for themselves or a friend. I have met so many people who have become my dear friends. The shop was definitely a bright spot for me during the last two years of COVID."
Jones' customers share her excitement.
"I love shopping at A Jones Company," Melissa Hudson said. "It is my go-to shop for hostess gifts and gifts for myself. Amy has curated a beautiful and unique collection of women's clothing, jewelry, home decor and gifts. My favorite part about shopping there is that Amy has a story for every product and why she sells it. You can tell Amy pours her heart and soul into her buying, making shopping at her boutique even more special and fun. She also sells unique candy, which my two sons go crazy for."
Sarah Chapin said it's important to support independent businesses because they keep communities unique and vibrant.
"A Jones Company is a warm retreat I find myself turning to for unique products across many categories," she said. "The environment, displays and assortments make it a treasure chest of sorts. There is a significant depth to what she offers, and it's always a surprise when I visit. It is constantly refreshed. I always leave with something special and unexpected."
More About A Jones Company
Owner: Amy Jones
Services: Boutique offering women's clothing, accessories, home decor, gifts, barware and candy
Location: 3 Chestnut Square, Cashiers, NC
Phone: 828.743.1111
Facebook: www.facebook.com/A-Jones-Company-LLC-269248519892903
Instagram: @ajonescompany