Shield of Faith
05 Oct 2022
Gracewear's Mission of Two Sisters
Story by Judy Royal
Photography by Chelsea Cronkrite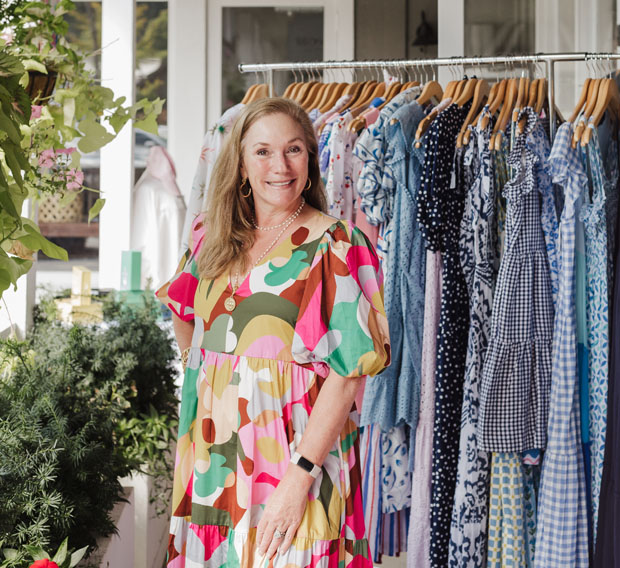 Like many businesses striving to keep up with ever-changing consumer habits, the Gracewear brand is constantly evolving. The owners, sisters Wendy Strong Lupas and Mary Strong Blackburn, lean on their faith to guide them along a journey that started in late 2009.
Through their own stories of grace, especially following the illness of Lupas' husband Sam, the duo found the inspiration to start a business with purpose.
"After exploring many different business models, the Lord blessed us with the Shield of Faith design, which has become the foundation for our Gracewear jewelry collection," Lupas said. "Gracewear is a multi-channel inspirational company. We are both a boutique and a brand. In addition to the jewelry collection, we also feature beautiful apparel, inspirational gifts and original abstract art."
Customers may visit the brick-and-mortar location, a more intimate space in the heart of Cashiers that opened in 2021 after the closure of a larger retail location in 2019, or shop online. In addition, Gracewear is relaunching its wholesale division in early 2023 to sell the Shield of Faith jewelry collection to other retailers in the country.
The Shield of Faith line, which comes in a variety of price points to fit every budget, was designed for women of faith wanting to wear meaningful yet stylish classic jewelry. There are over 125 traditional and contemporary styles incorporating 18-karat gold, rhodium silver, matte, leather, suede, genuine stones and pearls. Each piece comes custom packaged in a suede pouch with a scripture card.
"In a world that seems to be in chaos, Gracewear's jewelry is an intentional reminder to put on the full armor of God and let the Lord be your mighty warrior," Blackburn said.
Lupas sees Gracewear as more than its products; she considers it a platform to share a message of hope, healing and love.
"Without a doubt, my most favorite thing about owning Gracewear is interacting with our customers," she said. "Being able to share daily about our Shield of Faith collection and its powerful meaning of putting on the full armor of God daily is truly a gift and a privilege. The reality that the Lord allows Gracewear to be a platform for His glory is what our business is about."
Gracewear's customer base is a mix of loyal local friends and seasonal visitors, Lupas said. She was surprised by how many of them didn't miss a beat with their support even when the boutique was closed for a year.
"Many customers literally walk in shrieking with joy to discover us open again," Lupas said. "It is very humbling."
Those close customer relationships set the business apart from others, she added.
"I believe our personal interaction with our customers is very unique," Lupas said. "We do our best to create a connection with everyone who walks in the door. Our mission is to create a shopping experience that brings them joy. We always have contemporary Christian music playing, and I cannot tell you how many of our customers comment on how peaceful they feel while shopping at Gracewear."
Sandi Hart said she has been among the boutique's regular customers for well over a decade. She said the brand, especially the Shield of Faith jewelry, has been special to all four generations of her family, including her mom, daughter and granddaughters.
"From the first day I stepped into Gracewear, I was immediately impressed with the friendliness of co-owners Wendy and Mary, two beautiful sisters with the love of God in their hearts," Hart said. "Over the years the store has evolved, but its founding message has stayed true: Ephesians 6:10-18. It is the perfect place for a gift and hard to leave without finding something for yourself as well."
While the flock of people escaping large cities during the COVID-19 pandemic has been beneficial to Gracewear, Lupas admits there are challenges involved with operating a business in a small town that doesn't have a bustling year-round economy. But she's always thinking ahead.
"Although our town is growing, we are still a three-season business," Lupas said. "Being slower in the winter months, January through early spring can be a nice break, however also challenging as our revenue is down. Hopefully relaunching our wholesale division in the coming months will fill in the gaps during the off-season."
More About Gracewear
Owners: Wendy Strong Lupas and Mary Strong Blackburn
Services: Women's clothing, jewelry, accessories and gifts
Location: 82 Village Walk Way, Cashiers, NC
Phone: 828.743.3999
Website: www.gracewearcollection.com
Facebook: www.facebook.com/gracewearcollection
Instagram: @gracewearcollection