Bear Shadow takes music lovers offline and into the mountains
By Kelsey Reidle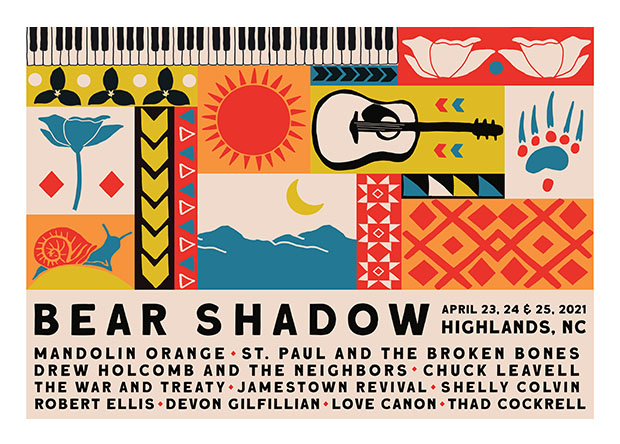 Months of uncertainty and trepidation threatened the first Bear Shadow mountain music festival, but plans for the weekend event are finally locking into place. With a new, larger venue came additional COVID-19 safety considerations as well as the ability for event planners to work around necessary restrictions.
The festival, which has become an opportunity to help relieve a bit of "COVID fatigue" after the 2020 Highlands Food and Wine was canceled, will certainly be a unique experience for music lovers, but Bear Shadow organizers are confident that a secluded venue and a creative format will guarantee a weekend of entertainment, musical fellowship and perhaps even a bit of familiarity for those who long for the days of intimate mountaintop gatherings.
Bear Shadow, scheduled for April 23-25, may not happen if Eleven Events, in partnership with Highlands Festivals, Inc., hadn't been able to secure Winfield Farm, a bucolic 50-acre farm in Scaly Mountain. While original plans intended for the festival's flagship concert series, Base Camp, to be held in Kelsey-Hutchinson Park, attendees at Winfield Farm will be able to purchase tickets as part of smaller groups while remaining distanced from others.
Plans include seating groups of four to eight attendees in COVEs (contained open-air viewing environments) situated six feet from each other.
Casey Reid of Eleven Events explained the operational challenges involved in planning such an event. Her team was forced to find new, creative strategies while working around and unplanned costs. Despite the logistical and financial hurdles, however, the vision for Bear Shadow has gone unchanged: To support the Highlands-Cashiers Land Trust and its mission while offering a fun, variety-packed event in the plateau spirit.
While several Bear Shadow events will still occur in and around Highlands, options were limited for Base Camp, which is expected to draw up to 1,000 attendees. Performers include Robert Ellis, Drew Holcomb & the Neighbors, Mandolin Orange, Thad Cockerell and St. Paul and the Broken Bones, among others.
"In order for this to move forward, we had to move it out," she explained. "Our mission is to really support our stakeholders in Highlands, including our hotels and inns, and our restaurants and retailers. It hurt for us to have to move Base Camp out of the center of town like we usually have for Highlands Food and Wine."
But a schedule packed with layered events designed to invite people to explore Highlands they may not be familiar with is an opportunity Reid's team continued to hold on to. From an intimate gathering with the legendary Chuck Leavell at The Farm at Old Edwards, to a three-night drive-in rock inspired film festival at the Performing Arts Center, to Saturday's guitar clinic with Robert Ellis at Highlander Mountain House and a complimentary energizing movement yoga session in the park, the weekend offers something for music lovers of any budget.
"We've really found that our folks who come to Highlands Food and Wine enjoy a more intimate experience where everyone feels like a VIP in a way," Reid explained. "They're not coming up here to go to a 5,000-person festival. We always imagined Bear Shadow as more of a micro-festival compared to other similar events."
The Highlands-Cashiers Land Trust will be leading an excursion to the top of Satulah Mountain on Saturday and Sunday, offering hikers the unique opportunity to take in the mountain's 360-degree view of three states while enjoying refreshments and acoustic performances by Devon Gilfillian (Saturday) and Thad Cockerell (Sunday).
Reid and her team know the energy of a live musical performance is unmatched by any virtual experience, and they're enthusiastic about the future of live music festivals in a post-COVID-19 era. Like the bear emerging from her winter slumber, music lovers are eager to adopt a new kind of normal.
Read more about Bear Shadow, including ticketing information and frequently asked questions, at bearshadownc.com.
Bear Shadow Weekend Lineup
Thursday, April 22
Chuck Leavell @ The Farm at Old Edwards
Friday, April 23
Drew & Holcomb & The Neighbors @ Base Camp
Shelly Colvin @ Base Camp
Thad Cockrell @ Base Camp
Robert Ellis @ Base Camp
Saturday, April 24
Mandolin Orange @ Base Camp
Jamestown Revival @ Base Camp
Love Canon @ Base Camp
Sunday, April 25
St. Paul & The Broken Bones @ Base Camp
The War & Treaty @ Base Camp
Devon Gilfillian @ Base Camp