Romancing the Stone
07 Feb 2022
Breathtaking embellishments from neighborhood jewelers
By Kat Ford
Photos by Mary Gillan Renfro
The first significant gold rush in the United States was in North Carolina; our state is still known for gold, rubies, sapphires and emeralds. On and around the plateau, there are beloved jewelers, gem shops and retailers where geology enthusiasts flock for additions to their collections while lapidary lovers covet striking pieces of fine-art adornment.
Silver Eagle
349 Main St, Highlands
(828) 526-5190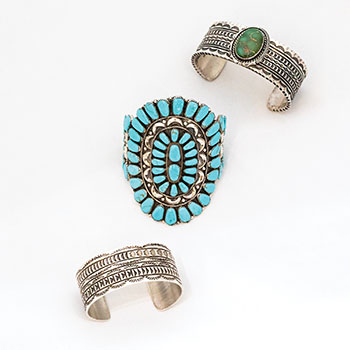 Silver Eagle specializes in American turquoise. Many Native American bracelets feature green or blue turquoise from Nevada, Arizona and New Mexico. Both colors of turquoise are equally desirable. The turquoise is often surrounded by elaborate hand-stamped designs on the silver. Native American sterling silver jewelry is timeless. It does not depend on trends or fads. There is a strong connection between the artist, the culture and the history of Native Americans.
The Nelson family has been in the Native American jewelry business for 48 years representing over 200 artists from 20 Native American tribes.
Sterling silver bracelets handmade by Navajo artists, contact for pricing.
Bijou
177 Main St, Highlands
(828) 371-0652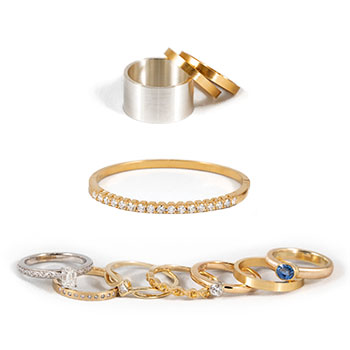 Laurel Parham-Martinez found her artistic inspiration at 7, frequently visiting the pawnshop next to her parent's furniture store. At 17, she worked with the owner, Sigi, a German jeweler and her mentor, before college. After graduating from Savannah College of Art and Design in 2000, she began an apprenticeship with a Spanish jeweler. In her Highlands store she, "loves repurposing heirloom gems and pieces for today's generation. With the pandemic, I feel we are all going back to basics. Simplicity and being able to hand-make pieces while incorporating the past generations' legacy to the next has given me a purpose. It is my pleasure to identify each person's unique style and create jewelry that can tell their unique story."
Rings in 14k-18k gold with sapphires and diamonds, $400 to $2,800; Bracelet in 18k gold with diamonds, $6,200; Bands in 18k & Continuum silver, $250 and up.
Gold-N-Clipper
410 Main St, Highlands
(828) 526-4989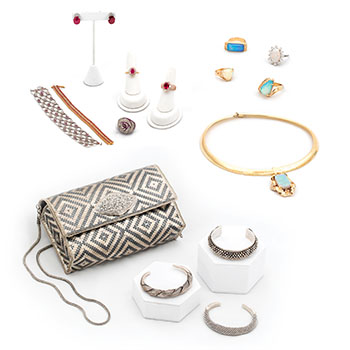 Gold-N-Clipper has been a jewel of Highlands, NC, since 1986, located adjacent to the historic Highlands Inn on picturesque Main Street. Their exquisite array of luxurious jewelry is as unique as the woman who wears it, offering a wide range of vintage estate pieces and fine silver from around the world. For collectors, Gold-N-Clipper has a variety of gold and silver coins and bullion, as well as a selection of pre-owned Rolex watches. Their high-end, affordable, quality fashion travel pieces make every new day a chance to sparkle and impress. Visit to find what their customers already know; you'll leave their warm, friendly family atmosphere as a friend.
Fine silver (.999) woven evening purse, contact for pricing; Fine silver (.999) bangles, $285 to $365.
14k 16" omega necklace, $8,948; Diamond opal pendant, $16,800; Opal rings, $2,950 - $8360.
14k white gold ruby and diamond bracelet, $13,000; 14k yellow gold ruby and diamond bracelet, $9,000; White gold ruby earrings, $4,950; 18k white gold ruby and diamond ring, $7,000; 18k yellow go