Refined Retreat
04 Oct 2021
Hidden within a labyrinth of seemingly random hallways, hidden staircases, and unexpected balconies – architectural features you'd expect to find in a Victorian manse turned B&B – lies a truly polished and luxurious boutique resort.
By Katie McElveen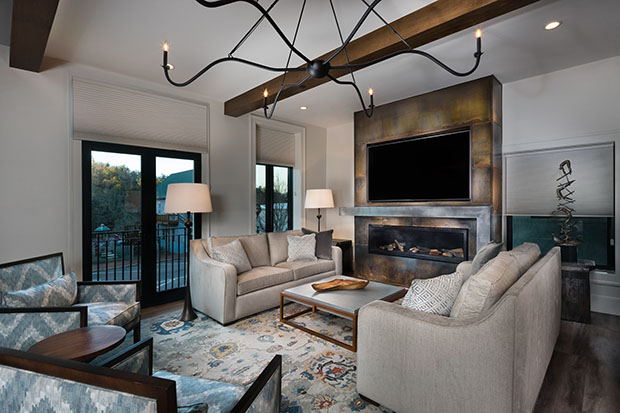 Entering the antique-filled lobby of Old Edwards Inn, it's hard to imagine that this refined mountain retreat in Highlands, North Carolina, started life in the 19th century as a boarding house. Though there are now nearly 100 guest rooms spread over the inn's expansive downtown location—up from 11 in 1905—public areas, which are cozy rather than expansive, feel like private havens where you could curl up with a book. No staff members are bustling by, no mood music, and no promotional flyers—but you will find urns of ice water and a freezer filled with Dove ice cream bars that are free for the taking. Even better, some spaces seem to have no purpose other than offering a comfortable place for guests to enjoy a cocktail before dinner—we sipped ours one night on the front porch of the inn--play cards, slurp your ice cream bar or watch shoppers on Main Street dodge raindrops.
That's the thing about Old Edwards Inn. Hidden within a labyrinth of seemingly random hallways, hidden staircases, and unexpected balconies – architectural features you'd expect to find in a Victorian manse turned B&B – lies a truly polished and luxurious boutique resort. Grounds, gorgeously landscaped with lush greenery, blooming shrubs, and bright annuals, are neat as a pin, with spent flowers removed, mulch swept, and pathways free of litter. Inside, mahogany staircase newels, many of which were carved by local artisans, gleam with years of elbow grease; half-finished glasses are whisked away the moment the guest has left. It's the kind of low-key elegance that makes a place feel special but incredibly welcoming as well.
Though Old Edwards could have wedged a spa into its existing footprint, the owners instead chose to create an immersive oasis of sound and light surrounded by porches crafted from native stone. Therapies, which range from European-style massages and facials to those based on ancient Asian rituals and practices, take place in state-of-the art treatment rooms that are both soothing and comfortable. It could easily stand on its own as a destination spa.
The team behind Madison's, the inn's fine dining establishment, have also created an experience that quietly impressed us from the moment we arrived. Poised, confident, and knowledgeable, our waiter was also fun and funny, laughing with us as we requested second helpings of bread, but still able to guide us to wines by the glass from the restaurant's unexpectedly well-curated list.
The food at Madison's was another delightful surprise. Hotel dining rooms have a challenge to create menus offering a range of dishes that can satisfy diners of every ilk. At Madison's, each dish is simple enough to showcase the quality of the ingredients, but, thanks to spot-on technique and sophisticated seasonings, a soul-satisfying example of what farm-to-table can—and should—be.
The Inn's surprisingly vast array of lodging options were also designed with a variety of guests in mind. The main inn, which occupies both the original structure and several connected additions, offers both rooms and suites. Our spa suite wasn't just outfitted with classic Old Edwards luxuries like a super-comfy bed and a Nespresso machine, but with an eight-jet shower, a marble vanity as long as a runway, a spacious outdoor patio and deliciously heated floors. Set atop a wide staircase in a building we shared with just one other suite, our space was as private as it was expansive.
Located behind the inn and on the other side of Church Street, a collection of rooms, suites, cottages and residences, all separated by winding pathways dotted with pools and bright green lawns--occupies a parklike city block. Offering lots of outdoor space and some kitchen facilities, but with easy walking access to town, it's a great option for families. There's also Half-Mile Farm, a 38-room adults-only retreat set on a pond a short drive from the Inn. Acquired by Old Edwards Hospitality Group in 2015, the resort, with its elegant gardens and open meadows, feels like a bit of Europe that's been transported to North Carolina.
As mountain towns go, Highlands checks all the boxes. Shops, cafes, restaurants, and coffee bars line the Main Street area, which is also home to parks and even a small lake. Tucked into a shopping center at the corner of Fifth and Main, Mountain Fresh Grocery is a one-stop-shop for cheese, charcuterie, wine, baked goods, and other essentials. It also serves a fabulous breakfast—think corned beef hash, fried eggs, grits, and pillowy biscuits—to be eaten outside on picnic tables or, as we did, on the terrace of our room.
Beyond the Inn, Highlands and the mountains that surround it are filled with adventures. Hiking trails wind through the Highlands Plateau and offer stunning views of the deep valleys, waterfalls and dramatic rock faces that dot the region. Some, like the 2-mile-long Whiteside Mountain trail, require a car to reach the trailhead; others, such as the easy path that loops through the Highlands Botanical Garden, are just a stroll away. However you choose to spend your time, though, give yourself at least one more day than you think you'll need. You'll be glad you did.