Pickin' A Tune
02 Feb 2023
Blue Ridge JAM students honor Appalachian history and culture through music
By BRITTANY CONLEY
Photos by STEPHANIE WILSON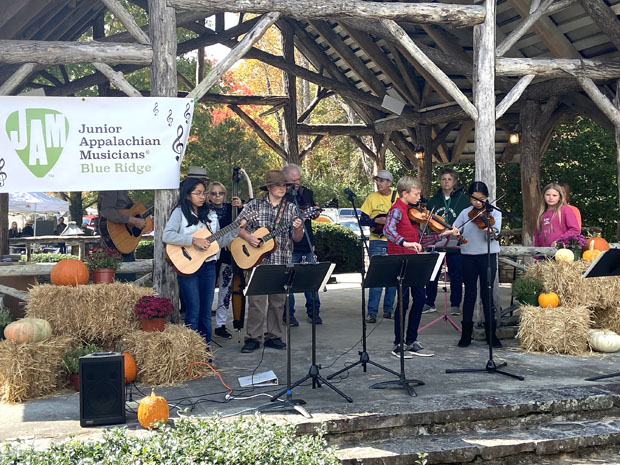 For most of us who grew up in Appalachia, or in its foothills, it doesn't take long when tracing our lineage to find our family trees brimming with singers and musicians. These kinfolk of ours picked and plucked away at a variety of instruments, some of which we still see, but many of which are now things of legend–dulcimers, spoons and washboards to name a few. It really wasn't that long ago the unique sounds of mountain music and twangy hymns spilled regularly from the front porch, yet it all somehow feels lost, trapped in a bygone era.
But there is a talented group of educators, musicians and historians who are keeping the sounds of Appalachia alive through the mission of JAM: Junior Appalachian Musicians, a regional group with over 50 chapters, one of which is right here on the plateau. Blue Ridge JAM's program director, Sarah Hall, started the Blue Ridge chapter in 2016 after seeing how incredible the Jackson County chapter was for local students. Great as it was, however, the Jackson County Chapter could not logistically serve the southernmost part of the county, which includes the plateau. Hall decided to rectify that by opening a new chapter. The Blue Ridge chapter now serves students across the plateau from grades 3-12, reaching more students than ever before.
"I wanted to give students an opportunity to take pride in their region, family connections, and culture," says Hall of what she hoped to achieve in starting Blue Ridge JAM. Students have the opportunity to pick up a guitar, banjo, fiddle or mandolin–but others make appearances as well. They learn to pluck and sing folk music, bluegrass and gospel. Students also have a chance to learn traditional folk dances and square dancing. Local experts, such as Billy Love from The Bascom and Peter Koch from the Mountain Heritage Center at WCU, come in to provide presentations and demonstrations that connect students to mountain life through art and history.
The group is also an important offering for students who are looking for connections after school that are not sports-related. "Some [kids] don't care for sports as much, and this gives them an opportunity to do something after school and to learn music," says Hall, who noted how difficult it was for the group during the height of the pandemic. But whereas many things had trouble recovering, if at all, the Blue Ridge JAM program has only increased in popularity since restrictions have loosened.
Before the pandemic, the group had roughly 30 students per semester. "This year we have 48 students and a waiting list," says Hall, who attributes that success not only to the generosity of The Village Green Board and Good Shepherd Church for providing much needed practice spaces during the pandemic, but also simply to how much fun the group has in and with the community. "Some of our teachers and more experienced students are going out into the community, and their music inspires others. Parents also see value in it for their kids," says Hall.
The organization's popularity doesn't solely lie with students and their parents; the entire community has taken notice. It takes a lot of community cooperation and involvement to keep the music flowing. From moral support to volunteering and monetary donations, the community, including both Blue Ridge School and Summit Charter School, has been unwavering in its support.
Tuition for the program is $75 per semester, but many students are able to take advantage of generous donations from area businesses and organizations that can cover those tuition costs on a case-by-case basis. These donations not only cover tuition, but also materials, instruments, repairs, teachers' wages, and refreshments. As a thank you, the Blue Ridge JAM students often perform for donors, and they are increasingly invited to perform for various community functions as well, such as partnering with the Cashiers Historical Society for a lively and festive performance during the Cashiers Christmas Parade in 2022.
In 1835, the poet Henry Wadsworth Longfellow famously wrote, "Music is the universal language of mankind." Music helps connect us to one another for sure, but the way it connects the generations that often feel entirely disconnected is perhaps music's truest magic. And the Blue Ridge Junior Appalachian Musicians are getting a sense of what their ancestors had to say about life in these mountains before all our modern-day conveniences, which is important history to keep alive. Through these folk and bluegrass tunes, the gap between past, present and future is abridged–a musical term meaning to shorten. If you are interested in catching a performance by these talented students or would like to volunteer or contribute to the program, visit the Blue Ridge JAM at facebook.com/GreatKidsJAM.