On The Verandah
05 Oct 2022
Elegant food, stunning views and exquisite wines
Story by Kay West
Photography by Chelsea Cronkrite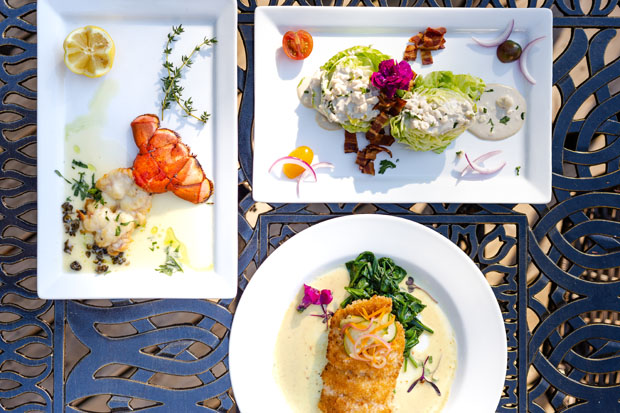 The year-round population in Highlands is estimated to be two to three thousand. During the season – or The Season – that figure peaks at close to 25,000. Andrew Figel, chef/owner of On The Verandah restaurant is only half-joking when he says, "And they all want one of the six tables overlooking the lake."
It's hard to blame them. There are other tables on the covered verandah, but the coveted six are set around the exterior-facing perimeter, snug against the screen, with optimal sight lines of lush lawn sloping down to Lake Sequoyah. It is not so much breath-taking as breath-releasing, urging an extended exhale and release of a busy day. The setting sun paints the sky red, yellow and orange, and on a clear night, moonlight sparkles on the water.
An uncovered deck offers additional al fresco dining, and the view within the 41-year-old restaurant is also lovely, with large paned windows, glossy original wood floors, vaulted beamed ceilings, muted hues of blue and cream and original art on the walls. Antique wood sideboards satisfy form and function.
After navigating twists and turns on the road to reach the restaurant, a tasteful foyer furnished with leather side chairs and scented with fresh lilies in custom-made vases is a gracious welcome. The separate small bar and lounge with a piano player six nights a week is a fine place to dine or enjoy a beverage while waiting for your table.
Figel's father Alan and stepmother Marta were visiting friends in the area when they came upon the log cabin – a Joe Webb original built in 1937. Local legend says it was a speakeasy back in the day, but when Alan and Marta walked in the door, it was a coin and stamp collectibles business.
Alan, who had restaurants in Florida, proposed a better use of the building with its prime location and primo view, and in 1981, the couple opened On The Verandah. Though the menu has evolved, the culinary concept has remained consistent. "My dad and stepmom were committed to making everything on site with really good ingredients," he says. "That was always their thing, and it's still our thing."
The wine program, on the other hand, has transformed and now offers exquisite wines from a highly curated collection. "The On The Verandah family, which includes a handful of sommeliers, is passionate about all things wine," says Allan Maxwell, the FOH Manager and Wine Director. Allan encourages diners to lean on the staff's expertise and explore new wines. "Wine is one of the things we do best."
Figel first punched the Verandah clock in 1986 as a dishwasher just out of high school, taking a summer job in the mountains to escape the Florida heat. He returned to Florida for school but came back to the restaurant in 1989, and has been there since, moving through every role including server, bartender, manager, chef and with his sister Marlene, co-owner. He is now sole proprietor.
The one-page menu is succinct, in three categories of small plates, salads and entrees. Specials of the day are chalked onto a board in the foyer and recited by the friendly waitstaff. (Bob Dennison with 21 years and Daniel Wade with 20 have admirable tenure on the floor.)
The bar offers a full cocktail program – old-school and contemporary craft – and the lengthy and sophisticated wine list by the glass and bottle draws deeply from California and Oregon vineyards, but France, Spain and Italy are also represented.
The lobster piccata is a signature dish – playing dual roles as a starter and entrée. It marries the sweet tail of the luxury crustacean with a luscious lemon beurre blanc; a sprinkle of fried capers add a bit of piquant crunch.
Figel raises the bar on a rib starter, lamb rather than pork; the tender-to-the-bone quartet lays atop and under a syrupy blueberry-soy sauce, a locally sourced pivot from pomegranate when that Middle Eastern supply chain was disrupted.
The kitchen regularly changes at least one of three salads to take advantage of seasonal harvest, but the Caesar and classic wedge are always good choices. The latter perches two little cups of baby iceberg lettuce as crispy bowls for the creamy, tangy house-made blue cheese dressing.
Matching the lake-front verandah tables in desirability and demand is the North Carolina trout. Server Wade doesn't hesitate for a milli-second when asked what the most popular entrée is, and Figel confirms it. "People expect trout in this area, and we're not going to disappoint them," he says with a laugh. "We have been sourcing it from Carolina Mountain Trout for 40 years." The butterflied whole fish is served with a traditional lemon butter or sweeter pecan praline.
Marta and Alan Figel traveled extensively, including to Thailand, and the spicy Thai coconut shrimp with coconut curry and black sticky rice was a result of that travel and remains a menu staple. Another favorite is a father-son collaboration – pan seared scallops on angel hair pasta with ginger-scallion sauce.
Andrew Figel likes to include at least one fresh fish special for the kitchen to play with; on a recent evening it was a plump and perfectly cooked filet of panko crusted grouper with wilted greens and Indonesian acar pickle made in house.
As autumn rolls into the mountains, Figel says diners can expect more braised dishes like short ribs and chef Brandi Peters' Persian-style lamb shanks. Pastry chef (and former owner of Frog & Owl) Jerri Fifer creates the dessert menu.
On The Verandah serves its last meal of 2022 on December 31, after which the restaurant will close for a couple of months of refreshing and refurbishing. Similarly, Figel usually takes his staff on a trip to the West Coast wine country, and he intends to spend some time in Spain. "It's a great wine and food destination, so I'll bring some of that back to Verandah."