Highlands Food & Wine Festival
05 Oct 2022
A premier culinary event of the southeast
Story by Mandy Murry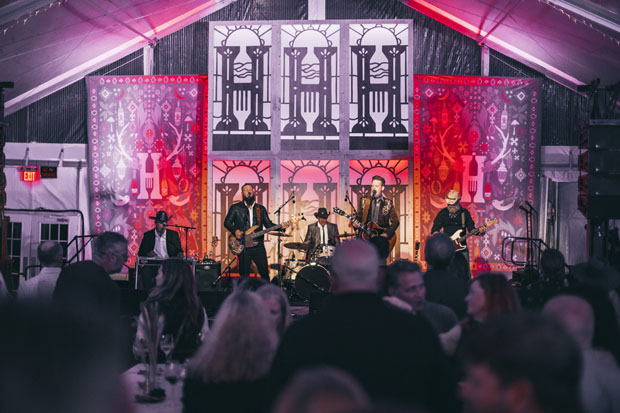 The stage is set for one of the most acclaimed events of the year, the Highlands Food & Wine Festival. The sold-out weekend of food, wine, music and more has certainly evolved from its humble beginnings. What started as a culinary weekend in 2006, offering a few wine pairings and local restaurant specials to coax diners out during the shoulder season between leaf peeping and Christmas, has evolved into a dynamic, ever-expanding culinary and wine spectacular.
With its official launch in 2016, the Highlands Food & Wine Festival reimagined the offerings on a much broader scale. Today the festival includes and celebrates not only culinary artistry and beautiful wines, but also music and other libations. With support from Visit Highlands, NC, a presenting sponsor, as well numerous local, regional and national businesses, restaurants and other sponsors, the festival has become the premier small town culinary event in the southeast.
Tryon Wine Distributors and Old Edwards Hospitality Group were instrumental in the development of the Highlands Food & Wine vision. "Since its inception, Highlands Food & Wine has grown exponentially to become one of the premier wine trade events. The level of experiential care that is shown to attendees and vendors alike is what makes this such an overwhelmingly sought-after occasion every year," explained Nick Demos, sommelier for Tryon.
In addition to its wonderful offerings, the festival has a tradition of giving back to the community. It started with donations to the Highlands Food Pantry and has evolved into an endowment for the Louis Osteen Legacy Scholarship to the Culinary Institute of America. For those not familiar with Louis Osteen, he was an inspired Chef who greatly influenced southern cuisine. A donation will also be given to The Friends of Founders Park, which has generously hosted the event over the years.
This year's festival offers five events over the course of four days. Each event hosts 500 - 1200 people. More restaurants, spirit companies, winemakers, and suppliers will be there than ever before.
Grand Tasting, (Thursday, November 10, 2022, 7:00 p.m. - 10:00 p.m.), the signature kick-off event highlights small plates by local plateau chefs. Music by Asheville artist, Lyric, and of course wine, spirits, and all the rest.
Truckin', (Friday, November 11, 2022, 12:00 p.m. - 3:30 p.m.), a cool, laid-back vibe of an afternoon offers live music from The Texas Gentlemen, with special guest Lilly Hiatt, the Truckin' Beer Garden, innovative food trucks, and vendors, including a vegan-friendly truck, and wine and spirits.
A Generous Pour, (Friday, November 11, 2022, 8:00 p.m. - 10:00 p.m.), is all about music, being together, and doing good in the community. Nicknamed the concert with heart, this event features performances by Durand Jones & The Indications and benefits the Louis Osteen Legacy Scholarship at Culinary Institute of America. Enjoy hosted beer, wine, spirits, and culinary surprises.
Main Event, (Saturday, November 12, 2022, 12:00 p.m. - 3:30 p.m.), is the official takeover of Main Street. Old Crow Medicine Show will headline, with special guest Molly Tuttle & Golden Highway. Small plates by some of the Southeast's finest chefs, wine and spirits, and the ultimate oyster roast with Derick Wafe of The Darling Oyster Bar of Charleston, South Carolina. Oysters will be harvested at four a.m. Saturday and driven in fresh for the raw bar.
Sunday Shindig, (Sunday, Nov 13, 2022, 12:00 p.m. - 3:30 p.m.), is the event not to miss. It is the best-kept secret, complete with a Bloody Mary bar, jams by The California Honeydrops, small plates, and prosecco and cocktails- the perfect ending to all the fun.
The festival hosts many talented chefs and offers attendees the chance to meet and connect with them. This year, Dean Neff from Seabird in Wilmington will be here, as well as culinary delights from Miller Union in Atlanta. Indigo Road Hospitality Group will be represented by Masa Hamaya of O-Ku Sushi and Matt Weinstein of Oak Steakhouse. "We love the intimacy of the Highlands Food & Wine Festival with the small, highly curated events. The festival allows us at Skyline Lodge to grow deeper roots in the community and in turn help the festival grow with more regional chefs attending," Steve Palmer of Indigo Road said.
The temperature outside will be cool, so pull on your best fall fashions, including a jacket, and enjoy the festivities.
Stay up to date for this year's event and the 2023 ticket announcements at https://highlandsfoodandwine.com.