Membership Has its Perks
03 Apr 2020
Mountain country clubs offer a variety of activities for all interests
By Judy Royal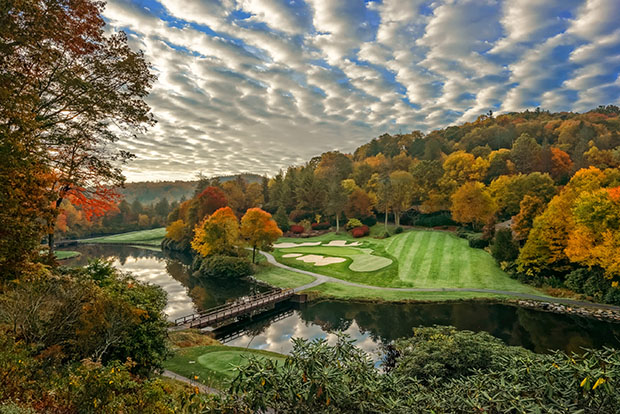 Whether you're looking for a one-stop shop to keep the whole family busy or a chance to meet and network with individuals who share your interests, country clubs are popular choices for spending leisure time. The mountain region has plenty of options that not only offer a full slate of activities but maximize the natural beauty of the area.
The Chattooga Club
828-743-3640
www.chattoogaclub.com
The Chattooga Club in Cashiers, NC, provides exclusive access to a wide array of amenities, activities, and events. Amenities include a Clubhouse/Lodge with seven guest suites that may be rented by members for themselves, families, and friends. There is also an indoor restaurant located in the Clubhouse/Lodge and an outdoor open-air Pavilion for dining with an adjoining bar. In addition, the Life Enhancement Center consists of a fitness center, spa, and gift shop. Chattooga Club has two full-sized croquet lawns, three Har-Tru clay tennis courts, three pickleball courts, a junior Olympic-sized heated saline swimming pool with its own Pavilion and bar, bocce court, flower, herb and vegetable gardens, hen house, playground for children and Children's Day Camp during summer months.
The Chattooga Club hosts many events, including weddings, rehearsal dinner parties, croquet socials and tournaments and tennis and pickleball clinics. The biggest event of the season is a Fourth of July celebration with a dance band or orchestra, a large spread of food and beverages, and a spectacular fireworks display to end the evening.
Need a place to host a private event? From anniversaries and dinner parties to birthday bashes and holiday soirées, The Chattooga Club can help commemorate special moments. The planning team can assist with everything from menus to décor, and the culinary team will ensure you and your guests have a memorable dining experience. There are also spaces for corporate retreats, team-building getaways, and business conferences so you can turn a run-of-the-mill retreat into a weekend-long experience.
The Chattooga Club strives to treat members like family. The community brings people together to enjoy and celebrate time-honored traditions while giving members the opportunity to reconnect with family and friends. As the private club community has developed, careful stewardship of this land has taken place to ensure that every element serves to further enhance the natural surroundings.
Cullasaja Club
828-526-3531
www.cullasajaclub.org
Created by Arvida Corporation in 1987 as a second home escape from the hot summer climates of the South to the cool mountain breezes, Cullasaja Club in Highlands, NC, became a private club in 2000 with membership by invitation only. The community is carved out of the primeval forest stretching out from Whiteside Mountain. Hundred-year-old specimen trees dot the landscape with the Cullasaja River running through it.
The club offers an Arnold Palmer Signature Golf Course, newly renovated 22,000-square-foot Clubhouse with remarkable views, a 24-hour Activity Center with full wellness and fitness offerings, wine dinners, summer holiday events, four tennis courts, four croquet lawns, and a 30-acre lake near the headwaters of the Cullasaja River that is stocked with trophy trout each season. Members can enjoy expertly prepared meals in the dining room, cheer a favorite sports team in the comfort of the members' bar, or partake in casual patio dining in one of many outdoor dining venues, including the Pool Side Grill.
Each year, more families choose Cullasaja Club for its unique combination of simple mountain pleasures, a vibrant social club, and a casual, relaxed lifestyle that is shared by all generations. The club prides itself on its personalized service and creating a sense of family and strives to make club life engaging and outgoing, celebrated with a sense of legacy, heritage, and tradition.
The club is also involved with giving back to the community. Cullasaja Women's Outreach (CWO), an independent collective of 100 members, awarded $223,000 in grants to local not-for-profit organizations during its 2019 fundraising effort. Since its founding in 2006, CWO has invested over $1,645,000 in the local community. Funds raised last year were awarded to 26 organizations through a sophisticated grants process chaired by three members. Individual awards ranged from $2,000 to $15,000.
Highlands Falls Country Club
828-526-4118
www.clubhfcc.com
Highlands Falls Country Club in Highlands, NC, is a member-owned, full-service private club established in 1958. Members can create lifelong memories with friends and family at club events, sports facilities, or dining establishments. Amenities include a clubhouse, fitness center, golf course, on-site dining, pool, croquet lawns, tennis courts, pickleball courts, and massage and acupuncture services. Members can enjoy interclub play, member-guest events, junior camp week, dinner dances, bridge, ladies' golf association, member art show, group exercise, personal training, fishing, and yacht club. As part of the 2019-2020 renovation, the clubhouse and golf course are currently under construction. The clubhouse will complete in May, and the back nine of the golf course will be finished in August. Renovation of the front nine will begin the fall. The club is open May 1 through October 31, although the fitness center, spa, and golf course remain open for year-round members and their guests.
The Country Club of Sapphire Valley
828-743-2462
www.ccsapphirevalley.org
A seasonal member-owned club in Sapphire, NC, The Country Club of Sapphire Valley combines picturesque surroundings with a variety of facilities for enjoying the temperate climate. The club strives to be a relationship-oriented place where everyone knows your name. Its mission is to "provide unsurpassed hospitality and experiences of exceptional quality while being a home away from home for our members, guests, and employees." Members enjoy a walkable George W. Cobb-designed golf course, dining and event options, fitness center, racquet center, lawn sports, and a wide range of interest groups. They come from cities such as Charlotte, Atlanta, Greenville, and Birmingham, all within hours from the property. Founded in 1956, the club over the years has grown to include a pool, croquet lawns, pickleball courts, and a 32,000-square-foot Clubhouse featuring a variety of dining rooms, a banquet room, an expansive kitchen, and lots of covered porches.
Trillium Links and Lake Club
828-743-6161
www.trilliumnc.com
Trillium Links and Lake Club, located in Cashiers, NC, strives to be a special place where families can enjoy mountain living at its finest and make memories together that last a lifetime. Trillium offers a wide array of amenities, including a championship golf course, pitch-and-putt golf course, indoor and outdoor clay tennis courts, pool/spa, hiking trails, and fitness center, among a longer list of additional amenities. Trillium is a young and active club with social-oriented activities every day throughout the season. Two private restaurants are also located on the property: The Clubhouse, an upscale establishment located off the 18th green, and The Landings, a more casual spot situated on the shores of Lake Glenville. Trillium's on-site waterfront property along Lake Glenville gives members the chance to visit The Landings via boat, lease private slips, or rent a motorboat, canoe, or paddleboard directly from its private marina.
Burlingame Country Club
828-966-9200
www.burlingameccwnc.com
Burlingame Country Club in Sapphire, NC, celebrates life and family with a variety of amenities and activities for members and guests. Among them are golf, tennis, croquet, fitness center, pool, spa, and social clubs. In addition, anglers can take advantage of the famous Horsepasture River that runs through the property. It is stocked with beautiful rainbow trout by the Property Owners Association three times per year and is also home to native brook trout and brown trout. You can catch fish year-round, and it's normal to have the river all to yourself. The club also offers an array of distinctive dining destinations to savor and experience a wide variety of culinary cuisines, from traditional American fare to specialty dining featuring prix fixe menus paired with wines from near and far. Social venues include Overlook Lobby Lounge, The Overlook Room, Sapphire Dining, The President's Room, The Boyd Dining Room, and Outdoor Dining Deck.
Lake Toxaway Country Club
828-966-4020
www.laketoxawaycc.com
Located on the shores of North Carolina's largest private lake, Lake Toxaway Country Club in Lake Toxaway, NC, strives to offer historical charm and refined Southern elegance. It provides a scenic backdrop for members to gather with friends and family to create cherished memories that will last a lifetime. Amenities include a golf course, Fazio Golf Learning Center, dining facilities, croquet courts, tennis courts, pickleball, fitness center, and pool facilities. The club emphasizes social connectivity between members and helps to forge those bonds by providing a backdrop for members to gather together to dine, celebrate, and explore common interests. Throughout the season, there is a full calendar of social events designed to appeal to all members of the family, and in addition to organized golf, tennis, and croquet groups that gather for weekly fellowship, the club also features a variety of social interest groups including Bible study, mahjong, and social bridge.
Wildcat Cliffs Country Club
828-526-2165
www.wildcatcliffscountryclub.com
Wildcat Cliffs Country Club in Highlands, NC, lies at the foot of Whiteside Mountain at 4,250 feet. It strives to foster camaraderie and friendliness of members with amenities such as golf, fitness, spa, tennis, four new pickleball courts, and croquet for players of all levels. The club's United States Croquet Association regulation-sized, bentgrass lawn, with its native stone mountain setting, makes the croquet facilities among the club's most unique aspects. Dining options include the Clubhouse for daily lunch, the Main Dining Room for dinner with a view, and the Pavilion and Bar for a more casual setting with a cozy fireplace. The club also offers a wide variety of social activities and interest groups, including art classes, bridge, book club, and Bible study. Lakeside Park boasts a dog park, picnic areas, playground, and fishing, while Glenville Lake Club has a lodge, rental units, pavilion and dockage for ten boats used by boat groups.
Mountaintop Golf & Lake Club
828-743-4707
www.mountaintopgolfclub.com
Mountaintop Golf & Lake Club in Cashiers, NC, is a private equity membership mountain retreat focusing on providing an exceptional experience with golf, lake recreation, and family outdoor fun. Whether you prefer nature activities, playing your favorite sport, or relaxing with friends and family, Mountaintop Golf & Lake Club has something for everyone. Amenities include a Tom Fazio-designed golf course, spa and salon, summer camp, restaurant and fitness center, and private club located on Lake Glenville with paddleboarding, kayaking, and canoeing. The lodge-inspired clubhouse is the social and activity gathering spot for all members. It provides a private dining room that may be reserved for gatherings and special occasions. For those on the go, visit the General Store for a quick breakfast or lunch. Members can also order pizza to go or have dinner catered in their home. Breathtaking views, more than 100 waterfalls, and an abundance of hiking trails surround the club.