Jannie Bean Designs has been bejeweling Highlands and beyond for nearly five years
By Judy Royal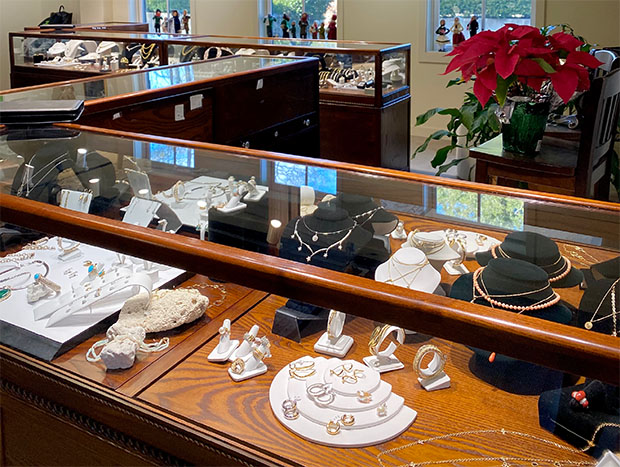 Some people take years to make decisions as big as relocating their businesses and lives, but not Jannie Bean. One trip to Highlands, NC, in April 2016 and she just knew. Less than three months later, she was opening Jannie Bean Designs at 152 S. 2nd St.
"The day we pulled in, I was exhausted but started putting jewelry in the cases," Bean said. "We hit the ground running."
Her roots in Minnesota were strong. Bean had been designing and manufacturing jewelry there since she was 19, a profession that was largely male-dominated. During college she apprenticed for a jewelry manufacturing company and continued to work there for years until she became the owner.
"I hung in there like a bad penny, and at 39 I bought the business," Bean said.
Over the years it evolved to become a full-service jewelry shop. There were no plans to move the business until Bean and her husband stopped to see a friend on the way back from a trip to Key West, FL. Bean said they instantly fell in love with the North Carolina mountains and decided it was time for a change.
"Everything fell into place within the first week we got back to Minnesota," she said. "The folks here are just very kind, very welcoming. We've only been here five years, but this is home for us."
As fate would have it, at the same time Bean was making plans to move, she knew of a jeweler who was looking to retire and seeking a buyout. That's how Bean wound up in her current space, a two-story, 2,500-square-foot freestanding building in the middle of town. Her husband, a contractor, has an office next door, and their yellow Lab runs back and forth between them during the workday.
Jannie Bean Designs specializes in creating personalized, unique solutions to specific customer requests while sticking within their desired price range. Some of her previous projects include engagement rings, birthday presents, keepsakes for new mothers and complements to cocktails dresses. The shop also features buckles for handbags and belts that are named and numbered to guarantee limited-edition status.
You never can tell what somebody is going to want or what they're going to like," Bean said. "Every person who comes in is thinking differently."
Bean said she makes 90 percent of what's in her current inventory, which includes items showcasing an array of precious and semi-precious metals and stones. She also enjoys reworking customers' existing jewelry into something new to be treasured.
"My designs are different and unusual," she said. "I like educating my customers and letting them know there are lots of things they can do and have and enjoy besides typical diamonds. I love problem-solving. You think outside the box."
Bean said while her competitors are Cartier and Tiffany & Co., she doesn't price like them. She added that she doesn't have a typical customer and prides herself on offering something for everyone.
"The repair customer that can spend $10 for a battery on her watch is just as important as the person who comes in and says, 'Design the world for me,'" she said. "I'm such a people person, and that's what really drives me. I care about all my customers and rarely have an unhappy customer."
Regular customer Susanne Anderson, who is a full-time resident of the area, said she met Bean two years ago when she needed someone to help her take inventory of jewelry from her mother's estate.
"For two and a half hours, she went through every piece," Anderson said. "She just couldn't have been any kinder. I have been shopping there ever since. She's very professional, but she's very warm and takes the time to get to know you, and I had not had that experience with a jeweler before. She's just super down to earth and friendly."
Anderson said she often refers friends to Jannie Bean Designs and always gets positive feedback.
"I've never heard anybody have anything but positive things to say," she said. "It's a very comfortable place. I trust her, and I have found her to be very forthcoming and helpful."
Bean is looking forward to a bright future in her current spot. She said it has been a great year despite the COVID-19 pandemic, perhaps because people are spending money on items for themselves rather than traveling.
"People have to get to know you, but you persevere and you work hard and you do your best," she said. "There are no shortcuts in life."
More About Jannie Bean Designs
Owner: Jannie Bean
Products: Original and custom-designed jewelry, redesign of existing jewelry, appraisals and repair work
Location: 152 S. 2nd St., Highlands, NC
Phone: 828-526-5858
Website: www.janniebean.com