Female fortitude in the early 1900s
By Carol M. Bryson, Historian and Author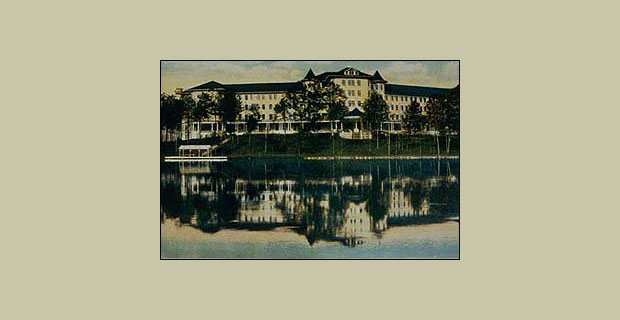 In light of International Woman's Day, March 8th, a remarkable woman from Western North Carolina comes to mind, who is not recognized in the archives of history for her success as a business person in a world before women were given the right to vote. In a long line of men who were appointed managers by The Toxaway Company for their three luxury hotels in the Fairfield, Sapphire and Toxaway areas as far back as 1892, finally, a woman proved to possess the right qualifications to deserve the honor. Mrs. Annie Davis Martin of Asheville, NC, possessed a well-established reputation in caring for the needs of discriminating guests in various inns and hotels, before she was appointed the manager of the enormous Toxaway Inn in 1911. She had demonstrated her meticulous management skills in the orderly running of large inns and boarding houses, which included the overseeing of the kitchen and dining staff, the cleaning and laundry workers, in addition to planning amusing events and activities for her society guests, all at the same time while realizing a profit for the owners.
Born in 1860, Annie Swann Davis grew up in a large boarding house that her widowed mother ran in Wilmington, NC. In 1879, when Annie turned 18, she married James G. Martin, Jr., a young lawyer who worked in his father's firm in Asheville. One year later, she gave birth to a daughter they named Esther King Martin. Three years later, another daughter, Anne Swann Martin, was born. Sometime between 1879 and 1900, Annie managed to attain two years of a college education. James and Annie Davis Martin were separated by 1900. Annie supported herself and her daughters by taking over the management of the Oakland Heights Hotel in Asheville in 1900, and changing its name to the Victoria Inn. Her daughters were by then 18 and 20 years old and were helping out, thereby carrying on, which was by then, the maternal traditional family occupation of hotel management.
Right away, local newspapers noted that Mrs. Annie D. Martin was making a remarkable success as the new manager of the Victoria Inn, allowing the owner to pay off old debts. Annie loved to plan dances with live orchestras and inviting notable citizens of Asheville to attend, such as Charles Waddell, who later took an interest in Cashiers and the High Hampton Inn. Annie's Victoria Inn became one of Asheville's most popular hotels in the days of horse-drawn carriages and electric streetcars.
The Inn's ownership changed hands frequently, with each owner keeping Annie in charge as its manager. After eight years, a Catholic Order purchased the property and turned it into a college. Annie Davis Martin went on to manage the Mountain Meadows Inn in Asheville for a while after that, until her reputation caught the attention of The Toxaway Company. In 1911, a newspaper announcement stated that she was receiving the management position of the grandiose five-story Toxaway Inn, built on the high elevations of Transylvania County, alongside a sprawling man-made lake and dam above the Toxaway Falls. This may have been the peak of her career. However, at the same time, she was taking on tremendous responsibilities. The Toxaway Inn attracted four or five times as many high society guests as she was accustomed to, from all over New England, who were looking for relaxation, excellent cuisine and entertainment. Guests arrived by train to the Toxaway Inn railroad station right next to the Inn.
If you are familiar with local history, you know that the Toxaway Inn's popularity fell to its demise in the aftermath of a torrential rainstorm in 1916, when the dam of the lake burst. Was Annie Davis Martin still the manager at that time? Further research shows that, no, she was not. By 1915, she had moved on to become the manager of the Highland Lake Club in Flat Rock, NC. While still the manager there, she became the manager and owner of the Flat Rock Country Club in 1917, renaming it the Woodfield Hotel. Two years later, she added the management of the Kanuga Club property in Flat Rock. Annie Davis Martin had certainly made her mark as a successful hotel manager. Her management skills proved to be equal to, if not better, than others in a male-dominated society.
In 1940, at 79 years old, Annie was living in Hendersonville, NC, with her daughter, Anne, who had married Edward Holmes. Annie suffered a fractured hip and became bedridden about 1945. She died of pneumonia in 1947 and her ashes were buried in the Riverside Cemetery in Asheville next to her husband, who died in 1913. Her daughter, Esther King Metz, who married Charles James Metz and lived in Atlanta, purchased large acreage tracts on Laurel Knob Road in between Cashiers and Glenville beginning in 1924. They built a summer mountain rustic home, which Esther architecturally designed herself, and her husband designed the dam forming the private Hurricane Lake. Although this property is not currently owned by them, Annie's granddaughter, Barbara Metz, and her husband, Edmund, were summertime residents of Glenville on another parcel since 1974. Mrs. Annie Davis Martin's family decedents are still continuing ownership in the mountains of Western North Carolina and are enjoying being summer residents of Glenville.