Artist April Johnson is living her best life
By Kim Henry
Photos by April Johnson, Deborah Trivin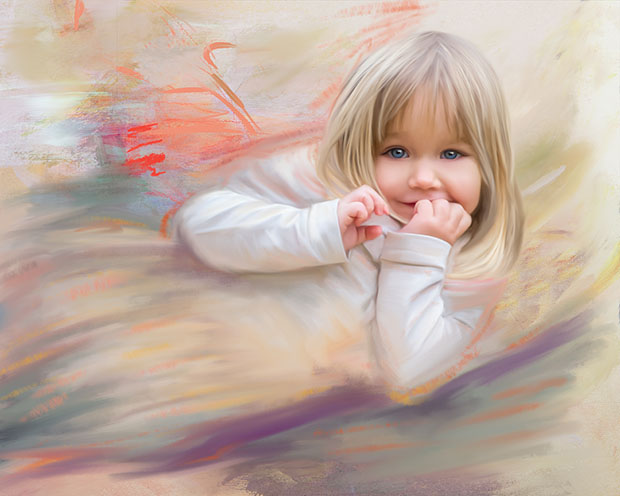 We've all had those moments when we were in the right place at the right time, and something magical unfolded. For photographer and artist April Johnson, this seems to be the story of her life. Charting her journey from a child in Ohio winning ribbons for her early sketches at school to the thriving portraiture artist she is today, April Johnson is most definitely living her best life. And a very inspiring one at that.
As a child, Johnson was always sketching, and so it was a natural progression that she went to Kent State University to study fine art. The surprising gift from this period was that she discovered an affinity for photography. "It was much more mobile and needed less supplies than art," laughs Johnson, exuding her easy-going love of life. Although she excelled in her newfound artistic expression, she didn't want to be just another photographer, and so she began with exploring black and white abstract photography.
Always keen to learn more, Johnson applied to the School of Visual Arts in New York City and, when she was accepted, packed herself off to see what the future held. While getting her final project framed in a shop, a representative for the major international construction and concrete company, LaFarge, happened to see her work. One thing led to another, and before she knew it, she was traveling from major city to major city, turning dull concrete buildings into dynamic images of innovation. Thriving within such a dynamic lifestyle, Johnson loved every minute until, after a decade, she was ready for a change of pace.
"New York was wonderful and had lots of opportunities, but after ten years, it was too much," shares Johnson from her peaceful haven in the mountains of western North Carolina, "I wanted to simplify my life and live in a more natural setting." The move to the mountains inspired her jump from film to digital, and following the loss of a beloved pet dog, Johnson took her next artistic step. Ashville Pets Photography was born and was an immediate success, with Johnson and her portable studio traveling to those who wanted to immortalize their animal friends. The work was pouring in when COVID hit, and like the rest of the world, Johnson had to be creative to figure out what her next move was going to be.
With in-person sessions at a standstill, Johnson began to invite people to send photographs of their pets for her to paint and so evolved her next creative endeavor - hand-rendered mixed media artwork. "I picked up a paintbrush, and this is what came out! I'm in my glory," smiles Johnson with gratitude, "I get to blend my photography and artistic skills and create work that is very satisfying to me and brings so much joy to my clients." Striving to capture the essence of a person or a pet through her work, Johnson's colors and textures leap off the canvas with the acrylic or oil paints that she uses. Celebrating each and every life, be it human or animal, that comes her way, Johnson's aim is to represent the spirit of her subject, allowing them to express themselves through her work.
Having spent so many years with the straight lines and the greys of modern architecture, Johnson is relishing the vibrancy and color of her present muse. "It's a beautiful feeling when people call me to tell me how much they love their picture. I can hear how much it means to them in their voice," shares Johnson, whose infectious love of life is inspirational.
As an international, state and regional award-winning artist, Johnson is also a member of multiple artist associations and consistently receives invitations to acknowledge her talent. Her work will soon appear on the cover of the Afghan Hound of America magazine, she exhibits at the Blue Moon Gallery in Brevard and was recently invited to be featured on the American Kennel Club website. Her natural affinity with animals is perhaps what gives her animal portraits such potency. "I love working with people, but animals exude unconditional love, and as long as they get a treat at the end of a session, they don't mind posing for the camera, and that works well for me," laughs Johnson.