Home Away From Home
05 Apr 2023
Hidden Valley Tavern pleases the palette and the eyes
Story by KAY WEST
Photos by CHELSEA CRONKRITE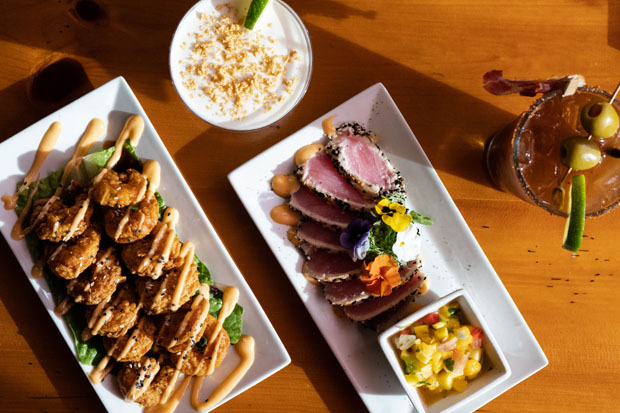 When asked what brought her to America from her native Turkey, Nesli Senturk fondly nods to her husband Vinnie, seated with her at a table between lunch and dinner service at their Sapphire restaurant, The Hidden Valley Tavern. "He did," she says. When asked the same question, Vinnie smiles and says, "The American dream."
The couple—who met in Istanbul when Nesli had Vinnie's nephew in her kindergarten class—likely didn't think they'd find their forever home in Western North Carolina, and owning a restaurant wasn't on their to-do list. Since coming to the United States, they lived in a small town in central Florida, where Nesli raised their two now grown children, and Vinnie built a solid, diverse and very successful portfolio of businesses.
In 2021, they came to visit friends in Sapphire and according to Nesli, it was love at first hike. "We hiked, enjoyed the water, golfed, played tennis. It was gorgeous, and we bought what we thought would be a vacation home in Burlingame. But my husband is a businessman and wherever he is, he has to have a business to be happy."
In other words, Vinnie brakes for opportunity and when he drove past an empty building on the side of Highway 64, he pulled into the parking lot, peered in the windows, and in March 2022 bought the property that had been The Gamekeeper's Tavern until it closed in 2015.
Because the building had been vacant for so long, the refurbishment and remodel was extensive, and as it evolved, Nesli was drawn deeply into the project. "Decorating and entertaining are my passions, so this is a perfect fit for me," she says enthusiastically. "The more involved I became, the more I loved it. Going out to eat is not just to fill your stomach—you want the entire experience, to be surrounded by beauty as you enjoy delicious food and excellent service."
The décor for the outdoor seating area, bar, lounge and main dining room were under the purview and discerning eye of Nesli, who reveals classic and timeless taste in her impeccable personal style.
Her touch extends beyond furnishings to include her cherished collection of Mackenzie-Childs handcrafted ceramics and enamel tabletop pieces placed through the restaurant. She can't resist a holiday. So far, she's hit Halloween, Thanksgiving, Christmas, Valentine's Day and St. Patrick's Day, and guests can't resist taking photos of the elaborate decorations she installs.
A high bar for food and service was set with the hiring of Maria and Michael Blades, who carry many years of experience in the front of house and kitchen. He serves as executive chef and general manager, and Maria is assistant general manager.
The Senturks had a vision for the culinary profile: elevated comfort food with high quality ingredients, polished presentation, some Mediterranean flavors, and enough variety that locals and seasonal residents would have choices should they become regulars. Otherwise, the chef says he was given artistic freedom to create a menu that is at once simple and sophisticated, with less serious options like fish tacos, Chef's burger and the enduring spinach and artichoke dip.
Blades found the perfect opportunity to run dishes by the Senturks as he was building the menu. "My husband surprised me for my 50th birthday and flew many family members in from Turkey," Nesli explains. "Everything Michael made for that dinner I asked him to put on the menu!" Among them, the Bang Bang Shrimp, a generously sized starter of 12 shrimp, tossed in a reduction of soy sauce, honey, brown sugar and rice vinegar, dredged in fish fry breading, fried to a golden hue, lined up six-by-six on a plate and drizzled with sriracha aioli. A surefire sell-out special is Bang Bang pork belly, likely to make its way onto the menu, as many specials do.
Ahi tuna is crusted with black sesame seeds, pan seared and sliced into pearly pink medallions, with a ramekin of mango pico de gallo to take the edge off the heat of the wasabi paste.
Chilled and tender Romaine lettuce is lightly tossed with lemon Caesar dressing, bite-sized garlic herb croutons and shredded asiago parmesan.
Though Nesli swears she could close her eyes, place her finger on any item and be happy with where it lands, she admits the bacon wrapped scallops are a choice she frequently makes with eyes wide open. Four large, succulent sea scallops are pan seared, wrapped in Applewood bacon with a slight crisp to the edges and served with creamy parmesan risotto and grilled asparagus spears.
Carnivores will be drawn to the 16-ounce cast iron ribeye, or the six-ounce hand cut filet mignon, skillet seared in a Madeira demi-glace. Add surf to your turf with a bursting-from-its-shell grilled Maine lobster tail.
Fungi fans should follow their nose to the forest mushroom fettuccine; a slow roast brings out the earthy flavor of the mushrooms, so abundant in the bowl of pasta that the dish could be described as mushrooms in a nest of fettucine.
Hidden Valley Tavern's opening last fall missed the peak season, but both couples agree that it had a silver lining, allowing them to fine tune operations while focused on locals, who have become weekly regulars and deeply devoted to the Senturks, selling out a fundraiser dinner they held for victims of the earthquake that hit their home country.
"The generous response we received from this community made me cry," says Nesli. "This is our home. We love it. We put our whole heart into the restaurant, and our customers give their hearts back to us."
Hidden Valley Tavern
3638 US 64
Sapphire
828.866.3144
Reservations on opentable.com