Highlander Mountain House Salon Series
07 Jun 2022
An intimate listening experience like no other
By Marianne Leek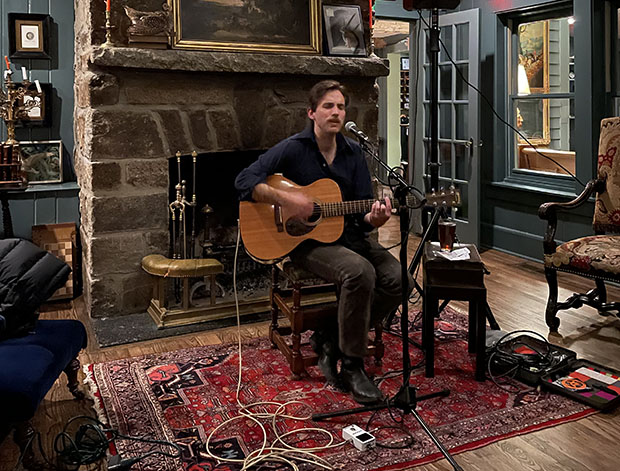 The charming 19th-century Highlander Mountain House, conveniently located in downtown Highlands, offers a unique, intimate listening experience like no other. The highly anticipated 2022 spring and summer music lineup of the second season of the HMH Salon Series includes an impressive list of musicians and offers guests an up-close and personal performance at a bargain price.
Erin Rae, a Nashville indie folk singer-songwriter, will perform on Thursday, June 30 and Parker Gispert, a Nashville-based solo artist and former lead singer of band The Whigs, will perform on Thursday, July 28. Looking ahead, Alexa Rose will perform on Thursday, August 25. All performances will begin at 9 p.m.
Opening in 2020, the Highlander Mountain House is "equal parts Appalachian lodge and refined English country estate" and remains focused on traditional mountain and community values, ensuring visitors a restorative and tranquil experience. According to owner Jason Reeves, the HMH music series was designed "to be more analog than digital. To get back to those things that are elemental—friendship, sustenance, warmth, connection and inspiration."
The idea for the salon series was inspired by traditional European salons which served as cultural hubs and gathering places for people of all classes to discuss, share, and engage in ideas, literature and the arts. Reeves's vision for the series is "European salon meets Bluebird café—elevated culture and the exchange of ideas meets rustic storytelling and art in an intimate space, with the connection between artist and audience as the only goal."
In 2021, award-winning Appalachian author Ron Rash was one of Highlander Mountain House's original guest authors in the salon series' inaugural season and read from and discussed his most recent collection of short stories "In The Valley." About his experience at Highlander Mountain House, Rash said he felt transported to a different time and place and the overwhelmingly positive response to the series has "really set the pace for everything we have tried to do since."
With a distinguished list of guests this season, it's clear that Reeves has his finger on the pulse of good music.
He explained what he looks for when curating the series: "We look for authenticity and for those artists who are passionate about the art of storytelling. Each artist is an exceptional songwriter or writer and there's something special that happens for the artist and the audience when you're sharing your work in that room fireside. The connection is undeniable and the walls are down."
And that's just it—the Highlander Mountain House Salon Series connects people and community who share a deep and profound appreciation and love of music, writing, and the arts. The HMH setting is unique and intentional.
"This venue is more of a listening party that you might find in Nashville, but we're in the mountains in front of a 19th century stone fireplace with a roaring fire inside a candlelit room. The atmosphere transports you to a different and simpler time."
Reeves credits his friend, singer-songwriter Shelly Colvin, with organizing this year's incredible line-up.
"Shelly believed in the vision early on and has helped find many of these talented artists, most of which are her great friends. Shelly is so inspiring and talented in her own right, so she naturally attracts good people and amazing, creative humans." Reeves has created something incredibly special, a gift and a source of pride for the Highlands-Cashiers community and cites community support as critical in attracting future artists and growing this into a meaningful musical platform.
"This is an experience that literally exists nowhere else. Most of these artists don't ever play in this small of a venue anymore, and if they have, it's not fireside in the equivalent of a large living room. We do this for the community because we want Highlands to be a hub for artists and creatives year-round," Reeves said. "The Plateau is so inspirational on its own, so bringing art and culture just feels like the right extension. We hope this is something that continues to build and build. Every time we see our locals, our neighbors and our friends smiling, it reminds us why we're doing it."
The Highlander Mountain House is located at 270 Main St., Highlands. Tickets for Erin Rae are $25 plus fees; tickets for Parker Gisbert and Alexa Rose are $25 plus fees. Purchase tickets by visiting www.highlandermountainhouse.com/offers-and-events.