Handled with Care
04 Dec 2021
3oak Handcrafted offers a unique shopping experience full of products built with love
By Judy Royal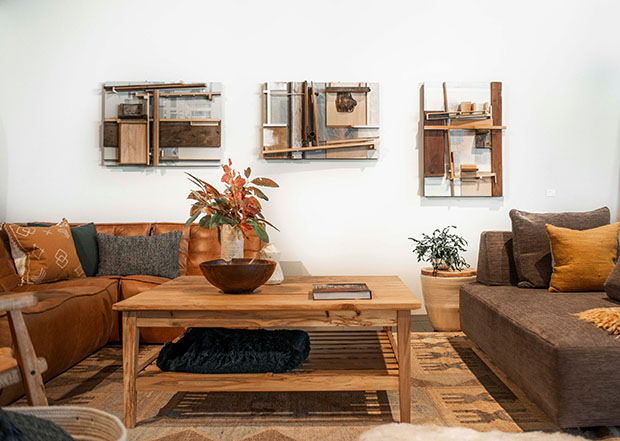 In less than four years, one man's hobby has turned into a partnership between three entrepreneurs who all share a passion for woodworking and showcasing local talent.
3oak Handcrafted's beginnings can be traced back to spring 2018, when Mike Burns retired, moved from Atlanta to the North Carolina mountains and picked up woodworking as a hobby. He soon joined forces with Joshua Goins and Scott Sullivan, and they built a woodshop from scratch in Balsam Grove, NC. A few months later they opened a 400-square-foot retail spot in Brevard, NC, and by September 2019, they knew it was time to grow even more, but COVID-19 had different plans for 3oak.
"We started making hardwood furniture pieces and people loved it, so we thought, 'We'll open a store,'" Sullivan said. "We began incorporating other items – such as rugs, textiles and stoneware – and we started curating this larger store and this larger idea that actually became an experience for people."
Today, 3oak encompasses 5,000 square feet in Brevard's new South of Main location, alongside neighbors PLATT HOME and The Haen Gallery. The space was an auto body shop for many years and plays up its industrial features, such as big steel beams, visible ducts and 15-foot ceilings. Customers can stop in for complimentary beverages while they browse and watch woodworking in progress, much like an open kitchen.
"Things really took off a lot faster than we expected," 3oak Product Manager Hannah Councill said. "People were really interested in what we were doing, and our team continued to grow. We now have 13 people in the company, and most are woodworkers."
3oak specializes in handmade home goods. In addition to the owners' own creations, the shop has partnered with ten local artists who make items that complement the furniture and tie everything together.
"We kind of have a passion for the beauty of the ordinary," Councill said. "We like things that are perfectly imperfect. Everything is made with care and love, and there's a story behind everything."
Quality is so important to 3oak that the owners have invested in their own milling equipment.
"We make furniture that is intended to be passed down," Sullivan said. "We want to make things that last a really long time."
"Honestly, the quality blows your mind," 3oak Interior Designer Andrea Hurt said. "Everything is made with such respect for the wood. People get really moved by the process and how much love goes into all this stuff. Every client matters."
Customers trust the 3oak team with meaningful projects. Hurt recalled a couple crying when they saw a table made from a magnolia tree that had to be cut down on their property. Councill said 3oak is also working with the new Mary C. Jenkins Community Center to donate a table made of wood harvested from the original center.
Shoppers span a large age range and include those looking to furnish and accessorize local homes as well as vacationers buying things for their homes elsewhere, said Hurt, who is available to provide complimentary designer services to those who buy 3oak products.
"We're very versatile," she said. "The way the furniture is designed, it can go with lots of different styles of homes. We call it 'modern with a hug.' Whether people buy anything or not, we want to make a friend out of the business. It's just part of the friendliness of our brand."
While the COVID-19 pandemic caused plenty of challenges, such as the business having to shut down for a period, it gave 3oak the impetus it needed to prioritize launching the capability to sell its products online.
"We knew we had to pivot to e-commerce eventually," Councill said. "We were just amazed by the popularity and how well it all worked out. We're shipping items to California. People are really passionate about supporting a business that makes things by hand."
Industry professionals across the country are taking notice of what 3oak has created. Designer Cliff Fong recently featured the store and the pottery of partnering artist Margaret Kimble in Magnolia Network's new series "Point of View: A Designer Profile."
"It was really validating that somebody of his stature really loved our things," Hurt said.
Overall, 3oak team members are proud of what they offer to local artists who can now make a living on their passion as well as providing a unique shopping experience.
"We've been blown away by people's reactions when they come in," Councill said. "I think we've created a welcoming environment where people want to come in and get to know us as friends and linger with us while having a beer or coffee. We couldn't have hoped for any better feeling than that."
More About 3oak Handcrafted
Owners: Mike Burns, Joshua Goins and Scott Sullivan
Services: Furniture and other home goods
Location: 222 S. Broad St., Brevard, NC
Phone: 828.237.3417
Website: www.3oakhandcrafted.com
Facebook: www.facebook.com/3oakhandcrafted
Instagram: @3oakhandcrafted