Furniture Family
04 Apr 2022
Even the dogs are involved with Yesterday's Tree, an Asheville staple since 1985
By Judy Royal
Photos: Chelsea Cronkrite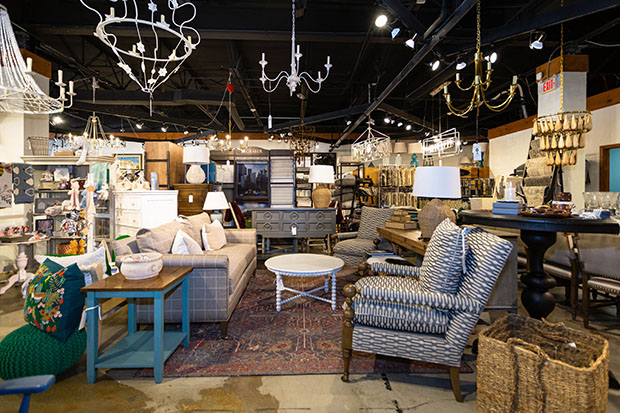 Opening a furniture store was a no-brainer for former high school teacher Peggy Yarborough when she was looking for a new venture 37 years ago.
"My brother had a couple of stores in South Florida, and I have relatives from Hickory," she said. "Furniture has always been in our blood. We've always been involved in the furniture industry."
A native of northern Virginia, Yarborough put down roots in Asheville, NC, after attending Mars Hill University. In 1985, she opened Yesterday's Tree.
"The shop started as an unfinished furniture store but within a year transitioned to finished furniture, and it blossomed from there into multiple lines, accessories and gifts," Yarborough said. "It can be almost a one-stop shop. Design services evolved out of customers asking us to help. We have designers who will go to a client's home and help with everything from small projects to entire houses. Our resources are very deep."
After suffering a fire in 2003 that resulted in a total loss, Yesterday's Tree set up shop two weeks later nearby in a temporary location and then in 2004 permanently moved to its current 9,000-square-foot space, which is two blocks from the original store.
"That's a wonderful testimonial as to how this town supported us," Yarborough said.
She said the location is ideal because its proximity to Interstate 40 allows it to feed all of western North Carolina. Yarborough said she is considering expanding into the space next door in the near future so customers can get an even better look at all of the offerings.
"We try to portray our things as comfortable," she said. "We've always been a very eclectic store. You don't have to buy the whole showroom setting. We keep things very comfortable, and we mix them well."
In 2019, Yarborough opened Curated by Yesterday's Tree, a pocket store at 58 College St. in downtown Asheville. It's described as an intimate boutique with "all of the fabulous style and comfortable design we're known for with a little bit of downtown vibe," and she said it showcases more of an urban, contemporary styling.
The family theme continues at Yesterday's Tree to this day. Yarborough's daughter Jayme, son Nick, daughter-in-law Cortney and 98-year-old father Johnny, also known as Pops, are part of the business, and two of her dogs, Sophie and Maggie, are regular fixtures at the shop. But Yarborough is quick to sing the praises of all of her employees, even those who aren't related.
"We have always had a great staff," she said. "This is never a store where I'm the boss and you're the employee. We're a team, and I think that creates a great atmosphere. We have very little turnover."
After decades in business, it's no surprise that Yarborough has become friends with many of her regular customers.
"I think that's what's so special about it," she said. "It's working with people. People love that we're a family-owned business. It's so rewarding when they come back. The customer does come first."
Yarborough said Yesterday's Tree is more than a retail store. She said she strives to give excellent customer service, whether someone is buying a candle or a sofa. And while she will ship items by request, that's not a major part of the business.
"People want to come in and see and touch it, and they need somebody to work with," she said. "We are more based on relationships."
Iris Barkley, who has been shopping at Yesterday's Tree since 1995, said she appreciates how friendly and helpful all of the employees are. She said she buys most of her furniture and home goods there and especially loves the wide selection of Christmas decor.
"I just think they're wonderful," Barkley said. "They're so accommodating. They always go that extra mile. They have great stuff. It looks great in my house, and it's my style. They're really good about remembering what your likes and dislikes are. I really can't say enough great things about them."
Yarborough said she's seen many new customers, some of them younger than in the past, in recent years due to the trend toward remote work and people being able to bring their jobs anywhere.
While the COVID-19 pandemic has caused some problems for Yesterday's Tree, including delays with getting inventory, overall, it's been a catalyst for business because it's caused people to take a closer look at their houses and seek out ways to improve them, Yarborough said.
"We've had the best year we've ever had," she said. "I think anything related to the word 'home' has flourished in this COVID era."
More About Yesterday's Tree
Owner: Peggy Yarborough
Services: Furniture, gifts and interior design services
Location: 780 Hendersonville Road, Asheville, NC
Phone: 828.274.4296
Website: www.yesterdaystreefurniture.com
Instagram: @yesterdaystree