From Loss to Joy
03 Dec 2022
Encaustic Painter Penny Pollock is as multi-layered as her art
By KIM HENRY
Photos by DYLAN LYTLE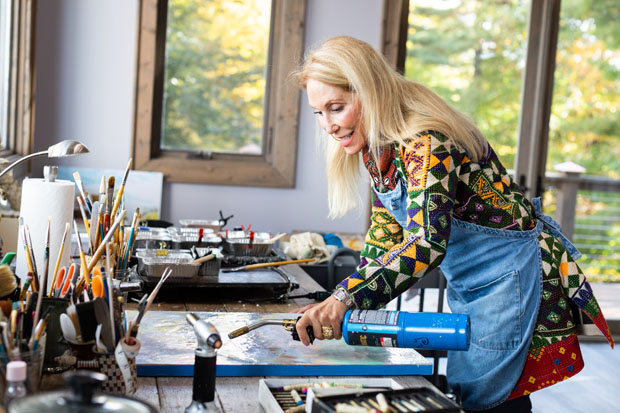 Experiencing the world as an invitation to artistically express yourself will lead to a colorful life story. This is certainly true of Highlands/Cashiers artist, Penny Pollock, who wears, writes, collects, explores and researches the arts with every step she takes. Having always been drawn to textiles, the mysticism of other cultures, her own deep connection to nature and the power of words, Pollock weaves layer after layer of these elements, together with fragments of her own story, to bring heartfelt encaustic creations into the world.
Despite having had more than her fair share of tragedy, Pollock comes from a place of joy and feels compelled to "spread the celebration of kindness" through her whimsical, multimedia encaustic art. The path to discovering this ancient medium, however, was neither straightforward nor predictable. One could say, it found her when she most needed to be found.
Pollock was born in Rye, a small town in New York state, surrounded by beauty and countryside although her childhood was less than idyllic. When she was just eight years old, her mother left the family home, forcing Pollock to find solace in her love of dancing, fashion and animals. Although challenging, Pollock, who has always been inclined toward joy and survival, kept her gaze forward.
As an adult, Pollock found herself in San Francisco and then, drawn to the bright lights of the Big Apple, New York City where she pursued a career as a fashion designer. While in New York, she became fashion director of Mattel's Barbie magazine and styled the celebrities for the Muppets magazine and TV show. "The children kept me sane," exclaims Pollock with her warm laugh. Pollock knows all about warmth. She exudes it.
But Pollock had more adventures ahead of her. Determined to explore her interest in indigenous cultures, particularly women and their artifacts, Pollock traveled the world. She collected elements of tribal art by the Maasai of East Africa and the Berber tribes of the Sahara. She connected with the artisans of India, Bhutan and Morocco where she fell in love with the woven fabric. Little could Pollock know that the stories of the people she met, the cultures she experienced and the treasures she brought home would all one day become aspects of a newly found artform.
A love for travel doesn't mean Pollock isn't a nester. She is, and 16 years ago, she found the perfect nest in the mountains of North Carolina. "I just felt my soul sing when I got to these mountains," shares Pollock with certitude. When walking through her home, one can almost hear her sing, her essence laid bare at every turn, each artifact or painting selected or created with precision and love, all cradled by breathtaking views of Whiteside Mountain. In the comfort of this new nest, she could feel something calling her, the need for a new art form that allowed her to express her whole self. But it would take over a decade and a heart-breaking loss for her to find it.
Clay had been Pollock's primary medium, but the endless "waiting game" involved in the ceramic process (wait for the clay to dry, kiln to fire, glaze to set….) made her curious about other artistic outlets. Then tragedy hit again. She lost her only child. Many cannot endure such loss, but Pollock is a fighter. She is drawn to light.
As part of her grieving process, she attended a workshop at The Bascom, a center for visual arts in Highlands, NC. Here Sue Fazio introduced her to encaustic art and all its delicious complexity, aligning Pollock with what may be her deepest calling to date. Pollock instantly resonated with the tactile, hands-on immediacy and flexibility of this method. Like the mountains, it spoke to her. "Through the layers of encaustic art, I can carve, paint, add my treasures from around the world, tell stories and spread joy. I'm also crazy about bees and the element of fire, so it just all clicked," Pollock explains, her voice overflowing with gratitude.
Yes, gratitude. Gratitude in the face of unimaginable loss - spreading joy to find it again.
Encaustic art has a long history, which also spoke to Pollock. This fascinating medium was developed by the ancient Greeks and used by the Egyptians. The encaustic process utilizes beeswax, paint pigments and tree resin, which are shaped by heating and molding with fire. Melting the first layer of beeswax, Pollock smooths it onto a wooden board where she adds layer after layer of color, words, objects and stories, carving and shaping as she goes, to produce her multi-media 3D creations.
Her process begins with her own blog, inspired by affirming quotes. Steeped in symbolism, Pollock's work has many reoccurring themes. Animals feature largely, inspired by the messages and associations they carry for her. Owls speak of wisdom and transitioning from this world, foxes of cleverness and tenacity and crows of transformation, intelligence, fearlessness and a higher perspective.
Honoring the wisdom of women from around the world is another focus for Pollock. One of her latest exhibits was an homage to Terry Tempest Williams, who suggests in her memoir that women were once birds, and they sang at dawn and dusk to remind the world to celebrate joy. All of this circles us back to Pollock's dedication to spreading joy, or perhaps better said, layering joy, her hands busy at work, sorting through her own loss and finding the love and joy that lay deep beneath it.
The art of this talented, creative and resilient woman can be found on magazine covers, in Pop-Up shows at The Bascom, online through her website, and at her studios.
Always up for adventure and immersing herself in each chapter of life, Pollock is now based half the year in the mountains and half in balmy Florida. Pollock has a studio in both places, where she creates, surrounded by nature. Her work exudes a childlike wonder of the world with all its diversity and the sheer miracle of being alive. Her piece titled Spread Your Wings reminds us to do just that, and to do it again and again. Despite the challenges life may throw our way, there's always beauty, joy and kindness to be shared.