Force of Nature
04 Apr 2022
Sue Fazio is as powerful as the nature that inspires her
By Kim Henry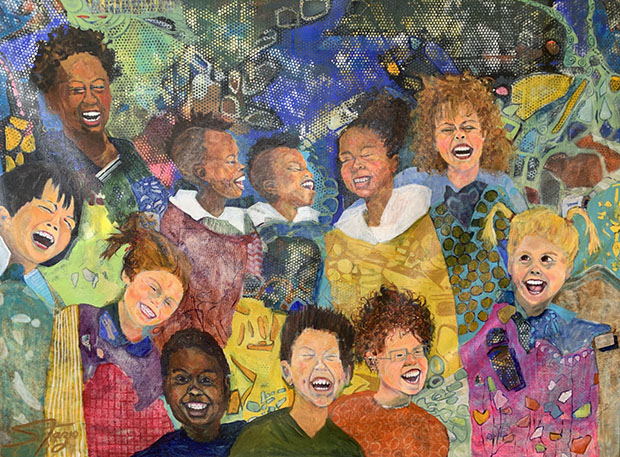 Once upon a time, there was a profoundly prolific woman who had six children. One summer, she painted a picture every day, and by the end of the season, she had 80 pictures. She didn't quite know what to do with them all, so she decided to try and sell them and donate all the income to her favorite charity. That's exactly what she did and has continued to do with every single piece of art that she has made for evermore!
It sounds like a fantastical story, but it is the real-life tale of Lake Toxaway artist Sue Fazio. With unimaginable amounts of energy, Fazio's accomplishments show no sign of diminishing. She has raised over half a million dollars for the Boys & Girls Club of Henderson County to date. "Every single payment for any of my artwork goes directly to the Club," she smiles. Fazio and her golf-course designing husband founded the charity in 1993, with 75 children on the books. Fast forward to 2022, and they now have 1,400 in-need children being provided with programs that lay a positive path towards a bright future and provide opportunities for educational, social and artistic enhancement.
As a proficient multi-tasker, Fazio splits her time between Florida and Lake Toxaway, which is right in the middle of Brevard and Cashiers in the stunning Blue Ridge Mountains of western North Carolina. "I paint every day because that's what I love to do! It's how my passion meets the world," enthuses Fazio, surrounded by her beautiful landscape, abstract and animal portrait creations. Fazio uses a range of mediums to express herself, including oil, pastel and acrylic. If questioned as to why she doesn't "settle" on one style, subject or medium, in true Fazio fashion, she simply responds, "I do not choose all the same kind of people as friends, nor do I eat the same food every day or only love one place."
This ferocious love of life fuels this artist to continually explore her creative journey and support the things she is most passionate about. Fazio has taught art at The Bascom: A Center for the Visual Arts in Highlands, has a doctorate in education, has exhibited in a wide range of galleries in both the mountains and Florida, raised her six children and now has 18 grandchildren, founded the Girls & Boys Club and is constantly evolving her artistic styles and techniques.
Her discovery of encaustics over ten years ago was a game changer for Fazio and has become her most treasured form of expression. Encaustics is one of the oldest types of art and can be found in the ancient tombs of Egypt, depicting mummies and different aspects of life. It is made up of beeswax, damar resin and pigment, which is then heated to 200 degrees, painted onto a wood panel and fused with a blow torch. It takes several layers to create the desired effect, and the very nature of the process means that the results have an organic quality that can't always be controlled. "I love texture, so encaustics is so fun for me!"
Inspired by nature, Fazio loves to garden, hike in the mountains and take in the beauty of her surroundings, especially flowers. On the flip side, she is also fascinated by natural disasters and uses this fierce aspect of nature as her muse. Her first abstract adventure began with trying to capture the energy of the volcano that erupted in Iceland in 2011. Additionally, she has channeled the power, grief and turmoil of tornadoes and tsunamis into her artwork. "I like to take all of that chaos and bring it into some kind of order," Fazio shares.
Finally, Fazio also has a vast collection of animal portraits. Growing up on a farm in Ohio, Fazio was surrounded by animals and has always felt an affinity to the animal kingdom. Focusing on the eyes in order to capture their soul, her vibrant animal portrayals are moving and powerful in equal measure. Somewhat of a whirlwind herself, Fazio continues to paint every day and to donate every dime from the sales of her artwork to the Boys & Girls Club. It's a win-win situation. She is motivated to paint to support the charity, and by supporting the charity, she continues to develop her lifelong love of art. (Oh, and she plays golf six days a week!)
Sue Fazio's work can be found on her website and she will be teaching an encaustic class at The Bascom: A Center for the Visual Arts September 6-9, 2022.