Easter Dinner
04 Apr 2020
Elegance Made Easy
Text, recipes, and photography by Kim Byer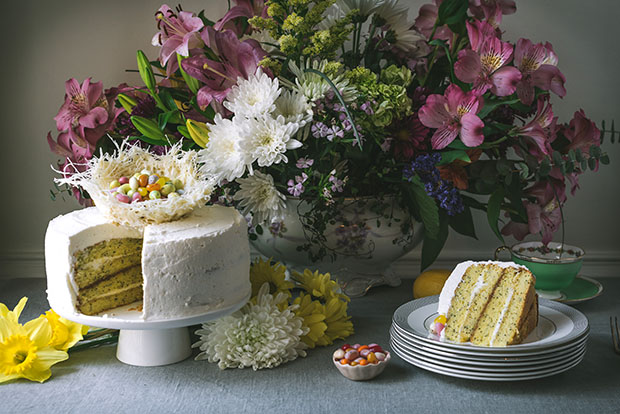 The Old Masters are having a moment. Our walls are wearing jewel tones; our table centerpieces are voluptuous and sweeping. Spring dresses are long, flowing, and painted with wildflowers. And entertaining at our very own castle is the new dining out. Whether it's the influence of The Crown, the eccentric English grandma-style (seriously) or the fascination with patina, gold leaf, and brass, Americans are digging all things old and elegant.
There's no finer Southern occasion than Easter dinner to test this new-old trend. In the spirit of extravagance-meets-IRL, we've whipped up a few trompe-l'œil dishes that are deceptively easy. We've missed the simplicity of iceberg lettuce, so we've shredded it and tossed it in a fresh herb vinaigrette; it's the perfect complement to our Boursin-rich carrot pastry squares. On the lighter side, our asparagus spears are crispy and lemony, and our pineapple-maraschino salsa will add a spoonful of nostalgia to your Easter ham.
Before the royal egg hunt begins in your backyard, find the hidden eggs in our golden phyllo-wrapped spinach and ricotta pie. And for a final nod to throwback deliciousness, no one will guess that your lemon poppyseed masterpiece with its Easter nest topper is as easy as pulling a bunny out of a top hat, er, box.
Shredded Iceberg Salad with Sheep's Feta and Fresh Herb Dressing
Serves 8 as a side
8 ounces sheep's feta cheese
1 head of cold iceberg lettuce, rinsed, dried and shredded
Dressing
1/2 cup white balsamic vinegar (or similar)
1 tablespoon Dijon mustard
1 shallot, minced
Handful of mint leaves
Handful of dill leaves
½ teaspoon kosher salt
Freshly ground pepper (about ¼ teaspoon)
2/3 cup extra-virgin olive oil
Make dressing by combining all ingredients except oil in a food processor. Turn on for a few seconds to incorporate ingredients, then slowly pour olive oil in until it is emulsified. Season to taste.

Place dressing and feta in the bottom of a large, cold bowl. Layer lettuce on top.

Toss at the table and serve.
Pineapple-Maraschino Cherry Salsa
for baked ham
Yield 2 cups
1 fresh pineapple, cored and chopped
½ red or orange bell pepper, diced
2 tablespoons red onion, minced
2 teaspoons cilantro, chopped
2 tablespoons fresh lime juice
1 jalapeño, seeded and minced (optional)
A few maraschino cherries, chopped or whole
1/2 teaspoon kosher salt, or more to taste
Combine all ingredients in a medium serving bowl. Allow flavors to develop for fifteen minutes before serving. If using maraschino cherries, add immediately before serving.
Savory Spinach & Cheese Pie with hidden Easter eggs
Yield 6-10 servings
9 eggs (divided use)
6+ teaspoons butter
1 small yellow onion, chopped
20 ounces chopped spinach (thaw, if frozen, squeeze to remove water)
12-15 ounces ricotta cheese
8 ounces Parmesan cheese, grated
¼ teaspoon kosher salt
1/8 teaspoon freshly ground pepper
Pinch of ground nutmeg
16 ounces phyllo dough
Preheat oven to 350°F.

In a large pot, soft boil 6 of the eggs and set aside.

Melt 1 teaspoon of butter in a small skillet. Add onion and cook until softened, then cool.

In a large bowl, mix 2 of the remaining eggs, spinach, onion, ricotta cheese, Parmesan cheese, salt, pepper and nutmeg.

Grease a 9-inch springform pan and layer the phyllo sheets, basting (or spraying) with melted butter between each sheet. Allow sheets to overlap and rotate the placement of each sheet so that each sheet covers the bottom and drapes over the side. Keep unused sheets covered with a damp cloth as you work. When finished, the bottom will be fully covered.

Pour spinach mixture into phyllo crust. Sink the 6 boiled eggs around the pie and cover with spinach mixture.

Fold the loosely draped phyllo sheets back over the top of the mixture, buttering as you layer.

Beat the remaining egg and brush the top of the pie. Bake for 40-45 minutes or until crust is golden brown. Allow to cool slightly before unbuckling springform pan and removing pie. Serve warm.
Crispy Roasted Asparagus with lemon and garlic
Serves 4
1 bunch pencil-thin asparagus, rinsed, with woody ends removed
2 large lemons (divided use)
¼ cup olive oil
Garlic clove, minced
Lemon rind ribbons for garnish
Kosher salt to taste
Preheat oven to 410° F (or 360°F convection). Line a baking sheet with parchment paper.

Zest 1 lemon. If desired, carve ribbons from the rind of the remaining lemon.

In a large, low bowl, roll asparagus in a bath of lemon zest, olive oil and garlic.

Arrange asparagus in a single layer on baking sheet. Slice remaining lemons into discs or quarters and place atop asparagus.

Roast for 15-20 minutes or until asparagus tips are crispy, being careful not to burn. Season with salt, garnish with lemon ribbons and serve.
Savory Carrot Pastry Squares with Boursin cheese
Makes one 9" x 14" tart
1 (14 ounce) all-butter puff pastry sheet, thawed (Dufour brand recommended)
2 tablespoons Dijon mustard
1 egg, beaten
6 small carrots, scrubbed and sliced lengthwise into thin (1/4") strips
1 lemon (divided use)
1 tablespoon olive oil
4 ounces Boursin cheese (pre-blended with chives and herbs)
8 ounces cream cheese
4 tablespoons water
Lemon zest + chopped chives for topping
Preheat oven to 350° F (or 325°F convection). Coat a perforated pizza pan with baking spray. Unfold pastry sheet onto the pan and using the tines of a fork, press an inch-wide edge all around. Prick only the inner bottom of the pastry sheet with the fork tines. This will allow the edges to stay puffed higher than the interior when cool. Baste the rim with the egg and the interior with the Dijon. Bake, according to package instructions, until the pastry puffs up golden brown.

Allow the pastry to cool while continuing. Note: At this point (after cooling), you may wrap the pastry tightly in plastic wrap and store on the counter for up to two days before proceeding.

On a parchment-covered baking sheet, toss carrots in a small amount of olive oil. Squeeze lemon on top. Tip: zest lemon prior to juicing and set zest aside.

Roast vegetables in a single layer until soft and caramelized (15-20 minutes).

In a food processor, blend Boursin, cream cheese and 4 tablespoons of water.

Spread cheese mixture over the pastry. Arrange roasted carrots on top. Bake for 15-20 additional minutes. Sprinkle with lemon zest and chives and slice into squares. Best served warm.
Lemon Poppyseed Cake with white chocolate Easter egg nest
Yields one four-layer cake
Cake
1 Duncan Hines Perfectly Moist Lemon Supreme cake mix
4 eggs (vs. 3)
½ cup high-fat, salted butter (vs. 1/3 cup oil)
1 cup milk (vs. 1 cup water)
2 tablespoons of poppyseeds
Zest of 1 lemon
10 ounces lemon curd
Cream Cheese Icing
8 ounces cream cheese
1 cup confectioners' sugar
2 ¾ cups heavy whipping cream
1 teaspoon vanilla extract
Easter Egg Nest
Handful of dry vermicelli noodles (angel hair), torn
5-6 ounces white chocolate chips or melting wafers
Handful small chocolate malted Easter eggs and jellybeans
Prepare two 8-inch round cake pans with parchment paper, then coat with baking spray. Follow the cake mix directions using the substitutions shown and adding the poppyseeds and the zest of 1 lemon.

Prepare the nest:

Break the noodles into small pieces and place into a large bowl. Melt the white chocolate according to package directions. Spoon the melted white chocolate over the noodles and using your hands, massage to cover the noodles. Then, press the noodles into a small bowl lined with plastic wrap. Place a second smaller bowl (plastic-wrapped bottom) on top. Refrigerate until hardened.
When baked cakes are cool enough to handle, invert them onto a cooling rack and remove their parchment papers. Using a long, serrated knife, slice both layers horizontally.

Using a clean, cold mixing bowl, whip cream cheese and confectioners' sugar on high until smooth. Reduce speed to medium and slowly add the heavy cream and vanilla extract. Return the speed to high and whip until the icing holds stiff peaks.

On the bottom cake layer, spread a thin layer of lemon curd (approximately 3 ounces for each layer) then top with a generous dollop (or two!) of the icing. Repeat for the next two cake layers. Spread the remaining whipped cream on the top and sides of cake. Place the nest on top of the cake and nestle the candy eggs inside. Voila!
Note: This recipe makes ample icing for layers, sides, and top.