Crazy for Condiments
04 Oct 2021
New owners find a welcome career change in Colonel Mustard's of Highlands
BY Judy Royal
Photos by Jim Mauchly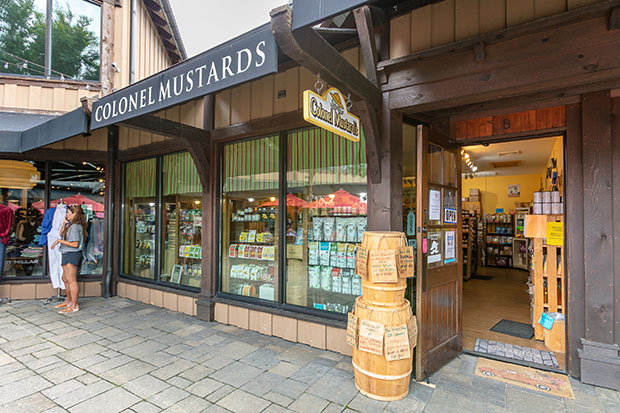 Have you ever been such a good customer of a place that you thought you might be better off buying the store? That's how Chad and Donna Skiles became the owners of Colonel Mustard's of Highlands in February 2019.
"Donna couldn't come in here without spending 100 bucks, so we figured we may as well buy it," Chad said of Colonel Mustard's, which has been a fixture in the heart of Highlands for 17 years. "We talked to the previous owner and asked if he wanted to sell, and things just went from there. We carry the same great items as before and added so much more."
Colonel Mustard's offers gourmet condiments and other specialty foods such as jellies, jams, preserves, salsa, nuts, honey, hot sauces, seasonings, rubs and pickled items. There are a few non-edible items, such as Stonewall towels and collegiate-themed cake pans, but those are definitely secondary to the multitude of tasty treats you'll find overflowing from the store.
"We like to think that we are unique in that we carry the unusual, the things you can't find in your grocery store," Donna said. "Our customer base is vast. We have something for everyone. So often we hear, 'We can't find this anywhere else.' Many customers are buying gifts for people back home who watched their pets or watered their plants while they were away on vacation. We are a hot spot for thank-you gifts. Everyone appreciates a gift of food."
The Skileses had been in the nursery business in Florida for many years but wanted to do something different to avoid working out in the heat.
"Because of medical reasons, we decided it was now or never," Donna said. "We're now doing something we love in a place that is like no other."
Besides the Skileses, there are no other employees at the store. During the summer their 16-year-old son Ty helped, but he's now back in school. Colonel Mustard's is open every day, except for January through April when it's closed on Sundays.
"It's been harder and longer hours than we thought," Chad said. "We didn't move to the mountains to work seven days a week, but that's what we're doing. Right now, we're just thankful to be open and doing so well."
While the COVID-19 pandemic prompted some changes around the store – most notably the removal of the plentiful samples that allowed customers to try before they buy – Colonel Mustard's has weathered the challenges and flourished.
"We didn't believe the store would survive, but our numbers are up," Chad said. "People are eating more at home and wanting to try something different. We're always hoping our products make a meal better."
The Skileses had considered opening a second store in Mount Dora, FL, but put that plan on hold due to the pandemic.
For customers in Florida or anywhere else, Colonel Mustard's sells its products online, which is a new feature for the business. Chad said this comes in handy in case of a "jelly emergency," meaning you are craving your favorite product but won't be coming back to the mountains for a while.
"We only see a lot of people once or twice a year," Chad said. "We thought it would help balance out our year because winters are so empty up here; 80 to 85 percent of business is done during tourist season, and in January through April we're just trying to pay rent."
"The website is constantly being updated," Donna said. "We are adding items every day. We carry thousands of items, so it has been a big project. We are hoping to be complete by the end of the year."
Ana Flores of Parkland, FL, is among Colonel Mustard's frequent online customers. She and her husband discovered the brick-and-mortar shop during a trip in 2019 and have been hooked ever since. She even emailed a photo of her stash.
"Donna helped me ship all the goodies because we were flying home the following day and I couldn't bring all those jars with me," Flores said. "After receiving the jars, my family and I instantly fell under the spell of these products. I tasted the pear preserves and said to my husband, 'This is like eating a homemade dessert with way less calories,' and I felt the same way with all the products we purchased. I also recommend the Braswell's Truffle Mustard. Since then, we've been ordering from them. Donna is a sweetheart, very professional and goes the extra mile for her clients."
More About Colonel Mustard's
Owners: Chad and Donna Skiles
Services: Gourmet condiments and other specialty food items such as jellies, jams, preserves, salsa, nuts, honey, hot sauces, seasonings, rubs and pickled items
Location: 343B Main St., Highlands, NC
Phone: 828.526.8697
Website: www.colonelmustardshighlands.com
Facebook: www.facebook.com/col.mustardshighlands
Instagram: @col.mustardshighlands