Christmastime at Old Edwards Inn & Spa
03 Dec 2020
Celebrating the holidays with old world charm in the modern age
BY: Brittany Conley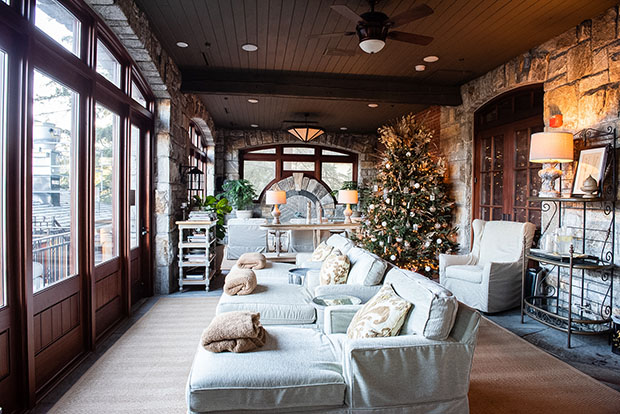 Come wintertime, as you enter the Highlands-Cashiers Plateau when the hills are covered in a thick blanket of fluffy snow and the flocked pine forests stir fond childhood memories of searching for the perfect tree, it's impossible not to be swept up in the season's majesty. You can almost hear the sleigh bells and reindeer hooves on rooftops. Truly, celebrating the Christmas season in Western North Carolina may only be second to Santa's Workshop in the North Pole. The absolute best way to spend the holidays, though, is with those we love—and in Highlands, NC, one of the most magical places to capture the good tidings and cheer of the season is at Old Edwards Inn and Spa.
While it started with a different name, Old Edwards Inn has been setting the standard for top-shelf hospitality for many generations—since 1878 to be exact, making the inn almost as old as the town of Highlands itself. The inn and town are practically synonymous, each replete with both luxury and charm.
While every season at the inn is special, celebrating the holidays at Old Edwards is an unparalleled experience. As this will be their 142nd Christmas, they have successfully combined time-honored traditions with a plethora of modern amenities.
The Accommodations
Your escape into the extraordinary begins the moment you step into the lobby. Greeted by the glow and crackle of a warm fire, impeccably trimmed trees and the friendly smiles of the staff, the outside world instantly begins to melt away. Though Daniel Smith, rooms division director for the inn, says it's the fragrances he enjoys most. "Walking through the front door, you're hit with so many familiar, warm, festive scents. The fireplace, the Christmas trees, and spiced cider," he says, noting the comfort found in the combined aromas.
The inn has grown quite a bit over its long lifetime, and there are many types of accommodations to choose from. The Historic Inn is where it all started. Each room, and therefore experience, is unique. Staying at the Historic Inn affords you the opportunity to be within walking distance of many award-winning restaurants and plenty of boutique shopping in downtown Highlands.
If you're interested in even more privacy or traveling with a larger group, you'll fall in love with Old Edwards' many cottages and homes available for all kinds of groups and events. They have attended to every detail. It's the availability of these larger accommodations which has made spending Christmas at Old Edwards Inn a long-standing tradition for many families. "The convenience of our guest estates and larger suites make it a prime destination for that type of getaway," Mr. Smith says. "Old Edwards innately has a warmth and a cozy family feel...our guests feel that from the moment they step on the property."
For the Kids
Of course, COVID-19 will inevitably alter holiday plans around the globe, but Old Edwards will not allow it to diminish the magic of the season for their youngest guests—while still maintaining the highest safety standards. Though elf tuck-ins have been a beloved annual tradition, they are still making the most of the season with the "Santa's Helper" amenity. Sure to delight children of all ages, this includes a personalized letter from Santa, a stuffed elf and milk and festive sugar cookies placed in the room to surprise your little ones upon check-in. "We also show Christmas movies in our game room [and] decorate Christmas cookies," adds Mr. Smith.
Holiday Eats + Drinks
The Christmas menus at Old Edwards Inn never cease to amaze even the most discerning of palates. With several dining options, such as Madison's Restaurant and Four65 Woodfire Bistro + Bar, it is easy to find just the right atmosphere, whether it is a romantic dinner for two, a drink with friends, or a meal for the entire family. Mr. Smith notes his seasonal favorites have included dishes such as the roasted turkey roulade and cranberry and sage cornbread stuffing, citing the holiday cuisine as "elevated, yet comforting."
Almost as important as food during Christmastime are the beverages. Hot buttered rum is the most requested specialty drink during Christmas, but you won't regret the cider or eggnog either—nor the impressive wine list.
The Comfort and Joy Package
Let's face facts, many of us could use not only a little rest and relaxation but also some rejuvenation after all that 2020 has thrown at us. There is no better time than the holidays to seek the total respite found at Old Edwards Inn and Spa, and they've put together the perfect package deal to add a little extra sparkle in your season. The Comfort and Joy package is a two-night special which provides you and a guest with some of the coziest accommodations in town, a sumptuous three-course meal at Madison's Restaurant and two luxurious 50-minute treatments in their renowned spa.
The Christmas Tree Package
If all you can squeeze into your jam-packed holiday plans is one night away, there is a great package built for that as well: The Christmas Tree Package. You and your guest will be gloriously immersed in the season for one night in a deluxe room, given a $50 credit to your choice of any restaurant at Old Edwards Inn and provided a voucher for your perfect (6-7ft) Christmas tree at Tom Sawyer's Christmas Tree Farm, a $99 value. Could there be anything merrier than bundling up in your favorite sweater and sipping hot cocoa or coffee while searching for your tree in the idyllic Western North Carolina mountains?
There is no better way to punctuate the end of the year than by celebrating the holidays at Old Edwards Inn. For more information about their Christmas packages, booking accommodations or to find out how they're protecting guests during this time, visit their website at www.OldEdwardsHospitality.com or call 866-526-8008.