Changing the Plan
07 Feb 2022
Six months turned into 33 years and a beloved longtime business for ckSWAN owner
By Judy Royal
Photos by April Rice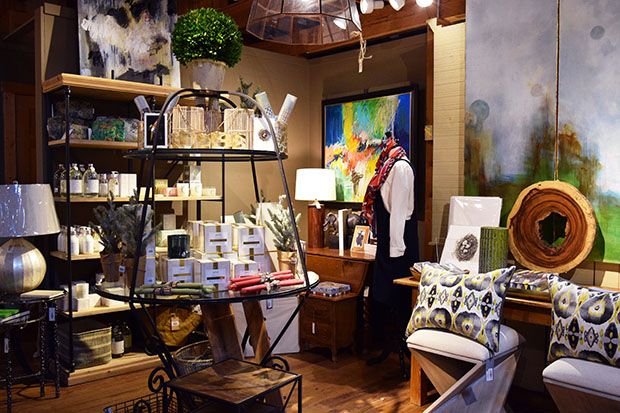 Plans for a six-month stay became 33 years and counting for Ashley Harllee, owner of ckSWAN in Highlands, NC. Following a short work experience in Paris, she moved to the area in 1989 to help her mother start the business, which she later bought and rebranded into what it is today.
"Growing up in Florida, I was exposed at an early age to the decorative arts," Harllee said. "I worked many estate sales while in high school and learned about the history and value of many categories of the decorative arts. I also studied fine art and painted."
The decision to stay in the North Carolina mountains was not difficult, she said.
"I fell in love with the Highlands area community for its simplicity of living and extraordinary natural beauty," Harllee said. "It reminded me of many wonderful European villages I had spent weekends exploring."
Harllee describes ckSWAN as "an established and growing fine home furnishings and gift store with an emphasis in home furnishings and gift needs, custom upholstered furniture, bed and bath linens, garden, kids, decorative accessories, apothecary, garden, books, art and jewelry." The 3,400-square-foot loft-style showroom displays her carefully curated collections of goods.
Having a diverse product range is among Harllee's top goals. She said she embraces perseverance and change.
"I love the search for new and interesting merchandise and bringing it all together in a purposeful display and seeing the excitement from my clients with their new purchases," Harllee said. "I once asked two of my customers who were buyers for Saks Fifth Avenue and Target if they had any advice on what I should be doing differently to better satisfy my customer basis, and they suggested branching out my offerings. This retail model is extremely rewarding creatively. In finding success, it is important to enjoy what you do. Also, trust your gut instinct and take some risks."
A business that has been around for 33 years has its share of longtime loyal customers, but ckSWAN is always welcoming new people who wander in, she said. Those who frequent the shop are mostly second homeowners in the area as well as visitors and designers, Harllee added.
"My wealth of knowledge in the decorative arts and my unique finds in both vintage antique and contemporary inventory set ckSWAN apart," she said.
Jane Bonham, who lives in Houston, TX, but also has a home in Highlands, NC, said she has been shopping at ckSWAN for nine years after a friend introduced her to the shop. She said the unusual offerings keep her coming back for more, many times per year.
"All the items in there are curated," Bonham said. "It's not like the look of the year. It's just a good eclectic group of items, and you always find something really interesting and really pretty. Things are always changing, and it's not even the same staging every time."
In addition, the staff always finds the right balance of offering assistance while giving space, she said.
"The people who work there are so nice and they're so helpful," Bonham said. "You can explore and you can ask and they're right there to help you, but they're not intrusive at all. I think Ashley does a great job and she's very talented. She makes you feel like you're a long-lost friend."
Bonham was so captivated with ckSWAN that she asked Harllee to help decorate her carriage house in Highlands Country Club.
"It turned out perfect, better than I hoped," Bonham said. "I think she has a wonderful eye."
While the COVID-19 pandemic did pose some challenges for the shop, Harllee said they were minor.
"We have rolled through COVID and succeeded despite all the commerce glitches," she said.
The biggest challenge for ckSWAN, Harllee said, is employment.
"That's something I'm giving a lot of consideration to as we speak," she said. "It might include the type of inventory I buy that is less labor-intensive to more flexible employee work schedules."
When asked what the most surprising or unexpected thing about owning ckSWAN is, Harllee's response is simple: "That I'm still in business and loving it!" However, she credits a caring community for her success and longevity as a local business owner.
"Our Highlands-Cashiers community is unique in that it is supported by people with very different interests but with one common goal of enjoying and preserving this piece of mountain paradise," Harllee said. "The joy that people find by either living or visiting here is contagious."
More About ckSWAN
Owner: Ashley Harllee
Services: Curated home goods, art, gifts, jewelry, garden goods and children's items that span locales, eras and styles
Location: 233 N. 4th St., Highlands, NC
Phone: 828.526.2083
Website: www.ckswan.com
Facebook: www.facebook.com/CK-SWAN-145738365475447
Instagram: @ck_swan