Answering the Mountains' Call
04 Oct 2021
Highlands Biological Foundation's executive director, Charlotte Muir
by Christa Miller
Photos by Chelsea Cronkrite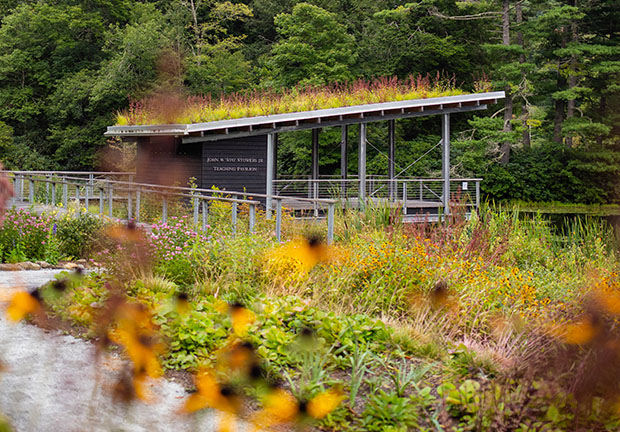 Charlotte Muir likes to say that "two John Muirs" brought her to the mountains of western North Carolina: her husband and the famed naturalist, whose quote "The mountains are calling, and I must go," adorns many a hiker's Instagram profile.
Muir answered that call in 2018 when she accepted her role as the Highlands Biological Foundation (HBF)'s executive director. Since then, she and her all-female team have taken the foundation's programming from seasonal to year-round, navigated the unique educational challenges posed by a pandemic and still grown revenue—all within four years.
Regional growth spurs foundation growth
The HBF serves as the nonprofit partner for the field research-oriented Highlands Biological Station (HBS), which draws researchers from all over the country and world. In turn, the researchers benefit from the HBF's educational programs, which draw a wider audience for the research.
Muir's arrival coincided with an inflection point in the HBF's growth. It had just completed its first capital fundraising campaign but had yet to begin the project, a lakefront teaching pavilion and pollinator garden now known as the North Campus.
In addition, the HBS had become an official multi-campus center of Western Carolina University. Momentum was strong but unfocused; with more funds than they'd ever raised, the foundation still operated on a very small organization's infrastructure and wasn't sure where to grow from there.
Muir's first order of business was to bring her knowledge of nonprofit management best practices to upgrade internal systems and processes so the organization could start to expand its programming.
To do that, Muir drew on her extensive nonprofit management experience—not in conservation, but in the arts, including a stint as theater director at Colorado's Vilar Performing Arts Center. There, her focus had been the "behind the scenes" business side of nonprofit management.
"I learned how to put on a show, not with lights and sets and costumes," she explains, "but with ticketing systems and budgets and community outreach programs."
That experience turned out to be exactly what the HBF needed when they hired Muir part time to help with marketing and office administration. It was meant to be a "filler" job until Muir figured out what she wanted to do in Highlands.
"I quickly realized that whether you're at an arts museum or performing arts center or a scientific-educational organization, it needs a nonprofit management skillset," she says.
Putting on nature's theater show for a diverse audience
Producing what Muir calls "nature's theater" for plateau residents benefits from her layperson's—and arts-oriented—perspectives.
"I'm constantly figuring out how to put on a show with the biodiversity of Highlands," she says. "I love to look at it through the lens of a mom or someone on vacation for the weekend or someone who's retired looking for something fun to do."
To do this effectively, the first thing she needed to learn was what she says is "a whole language around environmental education and field science."
But the HBS's environment is designed for learning. "I'm not afraid to ask for clarification when we're working with researchers, trying to tell their stories," Muir says. "If I don't know what it is, most people probably don't know."
To that end, the HBF's "K to gray" programming—everything from a preschool-age "Knee High Naturalists" program, to summer camps, to birdwatching and leaf tours, to a free summertime weekly conservation lecture series—represents one of Muir's mandates: expansion to year-round community outreach.
It's part of the HBF's vision to encourage what Muir calls "the next generation of field scientists." "We feel like, the younger we can get you interested, the better chance we have of you coming back here in twenty years and continuing this research that's guiding big decision-making," she explains.
This long view helps Muir to keep perspective. "Nonprofits are held to a higher standard because you're not only trying to break even; you're trying to inspire people and better their lives, provide education. You're always seeking this intangible level of awareness," she explains.
"Sometimes, you just don't know how you're doing. And so, you track numbers: how many people come to your events and how many kids sign up for camp and that kind of thing, but it can be hard to know if you're really making an impact."
By focusing on people's desire to "learn about why this place is so special and what biodiversity means," she hopes to encourage them "to make better decisions about what to plant in your yard and to think more globally about stewardship."
In turn, this philosophy is pivotal to Muir's community outreach work. She's on the board of directors for both the Highlands Chamber of Commerce and the Performing Arts Center, as well as the vestry of her church and Rotary Club membership, where together with the rest of HBF's staff, she volunteered with the COVID-19 vaccine initiative.
Growing towards a post-pandemic future
Coming to know the community this way helped everyone during the pandemic. The uncertainty was the hardest part, says Muir, "because for a lot of the work we do, we plan months in advance." That means decisions had to be made without knowing what the summer would entail —even for the in-person programs she calls "the heart and soul of what we do."
"We were lucky that the foundation is very connected in the environmental education world, especially in North Carolina," Muir adds. "There's a great organization that unites all the organizations like us. And so, we all brainstormed: how do we do virtual programs?"
It helped that the small size of Muir's team makes it extremely nimble and adaptable. Rather than have to wait for, say, committee approvals, they could make decisions as rapidly as they needed to.
And so together, Muir and her peers figured out how their programming could complement one another's. The new virtual format unexpectedly reached a much further ranging audience: former residents and visitors, as well as seasonal residents in other states.
That creativity meant that even though major fundraising events, including the annual Soiree and the Highlands on the Half Shell oyster roast—which support the foundation throughout the year—couldn't happen in 2020, the community stepped up. Funding kept flowing, and no one suffered, in spite of what Muir calls the "peaks and valleys" of the past two years.
"I think it's a testament to the history of this organization that one pandemic wasn't going to slow down nearly a hundred years of work," says Muir. "I feel very lucky to work here. It's not a job I ever imagined having, and I didn't think that I would be here this long, but now I feel like I have the greatest job in town."
BIO:
Birthplace: Monroe, LA
Family: Husband, John; Son, Shep (5), Daughter, Eliza (1)
Education: M.A., Arts Administration, University of New Orleans; B.A., Spanish, University of Mississippi
Hobbies: Reading, strolling Eliza and walking Hula (her beloved yellow lab), attending live theatre (musical obsessed), tennis, Peloton