Highlands Food and Wine Festival
04 Oct 2021
A celebration rich in food, flavor and fun
By Marianne Leek
Photos by
Maggie Braucher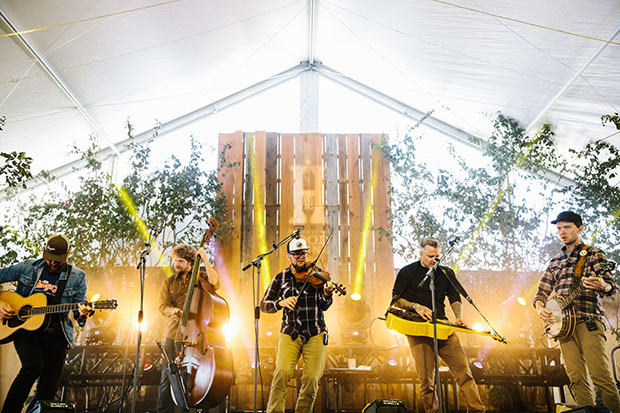 Notably one of the highest small towns east of the Rockies, there are few places as picturesque as the plateau in fall, the majestic Blue Ridge Mountains awash in fiery hues against a brilliant Carolina blue sky. With both Great Smoky Mountains National Park and the Blue Ridge Parkway practically in its backyard, the mountain respite of Highlands, NC, has always been a wildly popular destination spot for visitors in summer and early fall not only for its miles of trails, mountain vistas and abundance of waterfalls but also for its five-star inns, farm-to-table dining and charming downtown shopping opportunities. But perhaps no event is more representative of the best of Highlands and what this southern region has to offer than the finely curated and highly anticipated Highlands Food and Wine Festival, an annual celebration that affords patrons the chance to get up close and personal with some of the most exceptional chefs, vintners, mixologists and musicians in the Southeast.
Since its inception in 2006 with the purpose of prolonging Highlands' shoulder season, the originally named Highlands Culinary Weekend has undergone some significant changes. In 2016, it was re-branded in an effort to continue to promote the town of Highlands as a premier destination as well as provide a late-season economic boost to local business owners. Established in 2018 to oversee both the Highlands Food and Wine Festival and Bear Shadow music festival, Highlands Festivals, Inc. continues to be an asset to the broader plateau community giving over $45,000 to local charities such as the Highlands Food Pantry and Highlands-Cashiers Land Trust, as well as establishing a culinary scholarship to The Culinary Institute of America, with preference given to local students. They also remain fiercely committed to environmental sustainability, establishing a festival greening program and engaging in recycling and composting efforts which have thus far diverted over nine tons of waste from landfills. In the past six years, the festival has exploded in popularity and is considered one of the preeminent fall festivals in the Southeast, with tickets to its four main events, Grand Tasting, Truckin', Main Event and Sunday Shindig, selling out in a matter of minutes.
The festival also promotes wine dinners and specialty events held at local restaurants and retailers. Two notable events include the Old Edwards Inn and Spa Farm Harvest Dinner and Barn Dance, where visitors can expect "a full-on evening of authentic mountain culture. Your senses will come alive with sights, sounds, smells and flavors of farm-fresh creations being prepared live." This event gives patrons a chance to meet the farmers of Sunburst Trout Farm, Anson Mills and Painted Hills Natural Beef, all while enjoying an evening of live music from Back Porch Orchestra. The second culinary experience hosted by Half-Mile Farm allows guests the opportunity to "spice up" their "evening with Sue Zemanick, of Zasu in New Orleans and Melissa Martin, author of "Mosquito Supper Club" with this Chefs in the House Dinner where Sue will be serving up New Orleans style cuisine."
This year's four-day festival will kick off on Thursday, November 11th, and promises to deliver the finest culinary experience in the Southeast. In addition to the outstanding chefs who call Highlands home, the festival welcomes premier chefs from the region. The Grand Tasting will feature palate-pleasing fare from Ristorante Paoletti, Madison's Restaurant and Wine Garden, Bridge at Mill Creek, 4118 Kitchen + Bar, and Jeremiah Bacon, the executive chef of Oak Steakhouse and Indigo Road Hospitality Group.
For those who prefer a more laid-back savory experience, the Truckin' event delivers. Those who are truckin' around Highlands on Friday will have tasty options from a variety of food trucks and restaurant partners, including Wicked Good Deep Fried Pretzels, Highlands Burritos, Root Down, Backwoods Bakery, The Crafty Goat and Highlands Smokehouse. Festival VIP patrons can also try low country cuisine prepared by native Charlestonian renowned Chef Mark Bolchoz of Indaco.
Saturday's Main Event renders a mouth-watering cornucopia of cuisine from the popular Four65 Woodfire Bistro + Bar and The Darling Oyster Bar, as well as those prepared by regional Chef Drew Erickson from CAMP Modern American Eatery in Greenville, SC, and Victor King and Kristen Farmer Hall, both executive chefs and co-owners of The Essential and Bandit Pâtisserie of Birmingham, AL.
The festival concludes on November 14th with the Sunday Shindig, which provides food rich in flavor from Highlands' Half-Mile Farm, as well as tasty farm-to-table selections from Shawn Kelly of Fork and Plough in Greenville, SC. Festival patrons can also sample selections from Owen McGlynn of live-fire steakhouse Asheville Proper, which opened in 2020 and promises guests, "refined culinary experience without pretension to diners in Asheville," as well as French favorites prepared by Jeb Aldrich, the executive chef at Charleston's classic French restaurant, Brasserie La Banque. Having appeared on PBS' Cooking Under Fire, Top Chef, Food Fighters and Chow Masters, Chef Katsuji Tanabe will be opening A'Verde Cocina and Tequila Library in Cary, NC, in 2021, but will be serving up delicious delicacies as the festival winds down.
The Highlands Food and Wine Festival has hosted a wide variety of acclaimed musicians in the past, including Bruce Hornsby, Mavis Staples, The Wood Brothers, Dawes, Rhiannon Giddens, JJ Grey, The Infamous Stringdusters, and Anderson East, and this year's musical line-up continues to be a stellar representation of regional talent. 2021 festival-goers can look forward to welcoming Amos Lee, Hiss Golden Messenger, Devon Gilfillian, Rufus Lee and the Handful, Diana Demuth, and Erin Rae.
With so much to offer, it's no wonder the Highlands Food and Wine Festival is the hottest ticket in town. Mark your calendar for 2022 and start planning a fall getaway rich in mountain music, premier lodging, retail therapy and culinary pleasures that are sure to please the pickiest palates.