An Artist's Eye
02 Dec 2022
Eclectic, modern style at Annawear
By JUDY ROYAL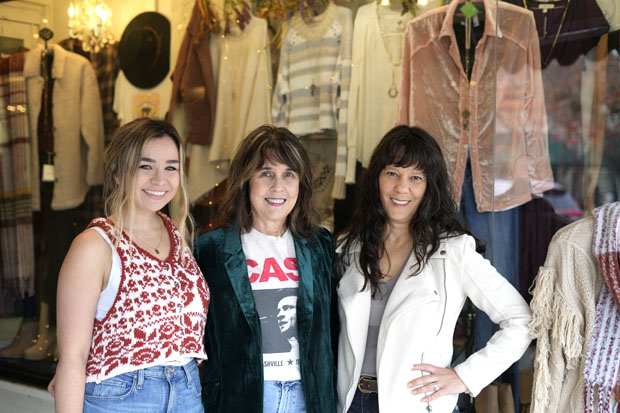 Anna Herz was a couple years out of college and fiddling around with some ideas when she launched Annawear in 1986. Now, 36 years later, the business has moved and changed its focus, but it's still going strong.
"When I started, it was really just kind of a fluke," Herz said. "It just sort of kept evolving a little bit along the way."
With an art background from Centre College in Danville, KY, Herz started painting clothes for fun in the 80s when it was a hot fashion trend. After selling a few items to friends, she decided to expand her efforts into a business opportunity and opened a small store along Main Street in Highlands.
A representative from clothing lines at the Atlanta apparel market stopped in one day and liked Herz's clothing so much that he offered to represent it at the market, so she began manufacturing a variety of items and selling them across the country to different boutiques. The tiny retail shop continued to operate, but the focus became shipping to other stores.
In need of more space, Annawear moved into the former Galax Theatre building in 1991 and continues to operate there today. Eventually Herz felt the hand-painted look was waning in popularity, so she traded producing clothing for curating and buying items to create a retail store that strives to excite women of all ages and budgets.
"We try to keep it eclectic," Herz said. "I don't think we have a typical customer. We try to reach a lot of different demographics with the variety we have in here. We are constantly getting feedback and a feel for what people like, and we try to make those adjustments as we go."
The appeal often spans generations. Herz said it's not unusual for a teenage daughter to come in with her mom and grandma, with all of them finding something they love.
"That really makes us feel good when that happens," she said.
In fact, Herz said the best part of owning Annawear is the relationships she has formed over the years.
"You just meet so many people and hear about their lives and get to know them a little bit, and that's really nice," she said. "It's always evolving, and there's never a boring day. Every day is different, and I really like that."
Customers will find lots of premium denim at Annawear – including brands such as Mother, Joe's, Hudson, AG and Citizens of Humanity – and other clothing from brands such as Free People, Z Supply, Daydreamer, Michael Stars, Sage the Label and Steve Madden. The shop also carries accessories and shoes from Shu Shop, Matisse and Diba. The intent is to "keep it fun," Herz said.
Being a successful entrepreneur for over three decades is no small feat, and Herz is quick to give credit to her family and staff. She said her husband Patrick has been a big part of the operation since the beginning, and her kids Lucy and Ezra grew up in the business. Herz said her employees, including Manager Tracy Roman, have been instrumental in making Annawear what it is today.
"Tracy has been a big part of the evolution and spirit of the business since the very early days," she said. "We often joke that we are like an old married couple. She is responsible for all of our denim buying, and if you are looking for jeans in the Highlands area Tracy is a great denim consultant. In fact, we call her the Jean Genie."
Herz said her daughter-in-law Katie Herz has also been a great addition to the business.
"Not only is Katie wonderful at sales in the shop, but she is also in charge of our social media presence," she said. "We have a wonderful staff overall that includes other family members from my family as well as Tracy's family and others who are so special they become like family."
Chat with Herz for a few minutes and her love for what she does is clear. In addition to her glowing words, what she doesn't say also speaks volumes. When asked about the challenges of owning the business, Herz struggles to come up with a response.
"You have your ups and downs for sure," she said. "You have to be willing to work hard and put in the effort. I just feel so lucky and fortunate with my business and happy with the way things have gone that it's hard to think of a lot of negatives."
More About Annawear
Owner: Anna Herz
Services: Women's clothing, shoes and accessories
Location: 355 Main St., Highlands, NC
Phone: 828.526.4660
Website: www.annawearnc.com
Facebook: www.facebook.com/annawearnc
Instagram: @annawearnc