Ambitious Artistry and Pristine Execution
01 Jun 2023
Highlands Tavern offers a culinary adventure
By KAY WEST
Photos by CHELSEA CRONKRITE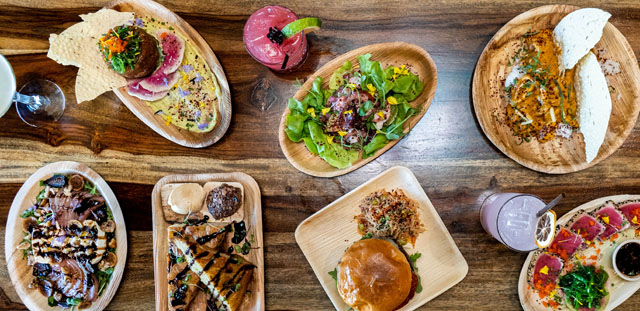 Anyone who walks into Highlands Tavern expecting a beer and a burger won't be disappointed. In fact, they'll be rewarded with a broad repertoire of craft beers and a praiseworthy construction of the American classic. A mix of brisket and short rib is patted into a ball, pressed down to a substantial puck-sized patty on the flattop grill, then placed between two halves of a brioche bun spread with fermented black garlic, a house-pickled green tomato on the bottom and a slice of gruyere cheese and confit tomato on top.
Don't ask for fries; Highlands Tavern has no freezer or fryer in their compact kitchen. A trio of side options—potato salad, spicy cucumbers and Vietnamese glass noodles—hint at the delightfully unexpected dishes to come from chef Kimmy Vos.
The young chef's most enthusiastic cheerleader and consistent taste-tester/quality control expert is local bar/restaurant veteran (4118 Kitchen + Bar) Ryan Aydelotte. The professional partners opened Highlands Tavern on August 6, 2022, nearly a year after signing the lease on the shotgun space that had been a private bar, vacant since Covid. Aydelotte was approached once by the building's landlord to do something with it, turned him down, reconsidered and brought Vos, who was bartending at 4118 and private cheffing for Old Edwards Inn off-site events, with him.
Aydelotte has traveled all over the world, settled in Florida, visited Highlands for over 20 years and became a full-time Franklin resident eight years ago. Vos's family moved from Ft. Lauderdale to Highlands when her father became caretaker of the King Mountain Club. As soon as she graduated high school, she moved to Charlotte to study culinary at Johnson & Wales University. Recruited from there by the Compass Group, parent company of the world's largest food service organization, she was an executive chef for two of their restaurants by the time she was 22, oversaw their southeast region, landed in Florida and worked multiple positions with Sysco before returning to the plateau six years ago to be closer to family.
She was not impressed when she and Aydelotte made their first site visit. "When I first walked into the back, there was an office and storage space, and I kind of freaked out," Vos remembers. "There wasn't even water back there. I didn't know how we would build a kitchen in that space."
But build it they did, and Vos oversaw a total transformation of the front to what is now evocative of an early 20th century tavern–long, copper-topped bar, tin ceiling, wood floors and walls covered with torn sheets of brown paper and shellacked. "She is responsible for how this whole place looks, from the bar and dining room to the bathrooms," boasts Aydelotte.
Vos says she approaches every day in the kitchen like Iron Chef. "I like doing what I call ethnic fusion. I'm happy with all genres as long as I can impact a lot of flavor."
While pondering the menu, order the focaccia of the day to share; big crusty hunks of bread studded with whatever strikes Vos as tasty—recently butternut squash, cranberries and pumpkin seeds—and a perfectly salted top, served with balls of miso butter and olive tapenade, or maybe a chutney.
Traditionalist diners can expect to be challenged a bit by Vos's twist on conventional items like the lemongrass chicken sandwich, topped with that confit tomato (kudos for not using off season tomatoes) and spicy chili aioli; a marinated flank steak sandwich; wedge salad with smoked bacon marmalade rather than bacon bits. Vos eschews the predictable vegetarian portobello mushroom sandwich and instead roasts jackfruit with house barbecue sauce, meaty enough to convince Aydelotte it was pork. The arugula salad with a fan of red wine-poached pear, medallions of dried fig, candied walnuts, two balls of burrata and a balsamic glaze is a standout, but come summer produce, it will be one of many dishes that change out seasonally.
Vos sources heavily from local farmers, forages for mushrooms and greens, and tends a home garden from which items will make their way to the Tavern kitchen. The bio-degradable palm leaf bowls and plates–the lack of space for a dishwasher precludes the use of china–are a compatible canvas for her ambitious artistry and pristine execution.
Culinary adventurists will be delighted to dig into her passion for bright, clean Asian products, which also lend themselves to beautiful presentations, vibrant with color, lovely in their refinement. The prettiest is a glistening round of pink tuna tartar set atop pickled cucumber slices, topped with a tangle of bright green seaweed salad and orange masago, beside a swoosh of pale green avocado puree sprinkled with delicate spring flowers.
Tuna tataki is crusted with black sesame seeds, briefly seared on the flattop, sliced and served with rounds of watermelon radish, seaweed salad, wasabi aioli and ramekin of ponzu. Her red Thai curry chicken is the word-of-mouth hit of the menu and she makes oodles of it weekly to meet demand.
My vote for most creatively realized dish goes to the octopus ceviche—tender tendrils of twice-braised octopus nestled on bibb lettuce, strewn with buttery avocado, blood orange segments, pickled shallot and just before serving, a touch of citrus dressing.
Vos provides dried fruits, flowers and bitters for the bartenders, who in turn have developed a delectable repertoire of sublime craft cocktails and thoughtful mocktails.
Aydelotte and Vos modestly credit the near immediate success of Highlands Tavern to its location across the street from Old Edwards Inn. But it's their shared expression of hospitality and Vos's undeniable talent in the kitchen that earn their restaurant a place on Highlands' dining out map for locals and visitors alike.
Highlands Tavern
205 South 4th Street
Highlands
828.526.9002
Open Friday to Tuesday 5:00 p.m. to 11:00 p.m.