AL Fresco Dining
03 Apr 2020
Warmer weather means the return of outdoor festivities at some of the plateau's favorite eateries
By BRIDGET CALLAHAN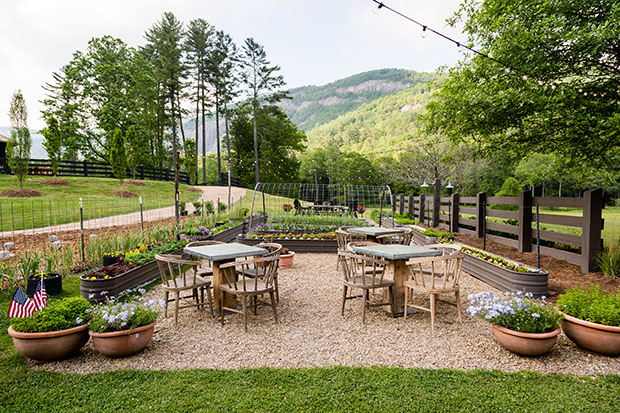 With the warm days of spring blooming, and summer right around the corner, now is the perfect time to find your new favorite patio for lunch, dinner, or just a cocktail. The plateau offers gorgeous views around every corner this time of year, and many of the area's best restaurants offer al fresco dining. So, grab your sunglasses and enjoy amazing food served with a happy helping of fresh air and blue skies.
Bistro on Main
(828) 526-2590
www.mainstreet-inn.com
Bistro on Main opens up for the season in April. This elegant little restaurant, housed in the graceful Main Street Inn, is a local favorite for sun-kissed lunches on the patio or cozy fine dining in the beautiful indoor space. Most of the lunch and dinner menu is fresh and light, featuring Southern classics like Smoked Trout Dip alongside Fried Butterfly Shrimp. Healthier options include their Ancient Grains Salad, which has powerhouse foods like almonds, quinoa, brown rice, kale, and black barley all tossed in a tomato balsamic vinaigrette with feta cheese and your choice of protein.
Blue Bike Café
(828) 526-9922
www.bluebikecafe.net
If you're spending the day visiting the Creekside Village Shop in Highlands, pop into this quaint, casual cafe for a stellar lunch and great people watching on the patio. Decorated with vintage Schwinn bikes and bike-themed decor, the café is a favorite with tourists and locals alike thanks to their all-day breakfast menu. A large selection of bike-named breakfast plates include The Lowrider breakfast burrito, the classic Commuter Bike eggs, or The 10-Speed pancake platter. Don't worry, there are plenty of great burger and sandwich options on their menu, but they don't have cute bike names.
Canyon Kitchen
(828) 743-7967
www.lonesomevalley.com
Canyon Kitchen is located in Lonesome Valley and is the perfect place to settle in for an evening of open-air elegance overlooking the striking granite cliffs of the Blue Ridge Mountains. The kitchen here has one of the best culinary teams in the area, using fresh, local produce from their own community garden and local farms to create one of the most celebrated farm-to-table menus in North Carolina. Handcrafted cocktails, craft beers, and a carefully crafted wine selection mean you'll be lingering at the open-air fireplace well after sunset. Dress code is mountain casual. Canyon Kitchen opens for the season May 13th.
Cornucopia Restaurant
(828) 743-3750
www.cornucopianc.com
Known as "Cashiers' Favorite Front Porch," Cornucopia has been serving great food and stunning views since 1979. Though they are currently only serving takeout, they will start seasonal dinner service mid-May. Until then, you can still take home one of their famous Arabian Clubs, turkey breast with applewood-smoked bacon, tomato, sprouts, black olives and mayonnaise on pita bread, or a Purple Onion Burger, served with gouda and purple onion marmalade. If you're vegetarian, don't miss Scott's Black Bean Burger, a signature menu staple served with cheddar cheese, spinach, avocado, tomato, sprouts, and lemon dill dressing on toasted wheat.
Four Seasons Grill
(828) 743-4284
www.facebook.com/fourseasonscashiers
Nestled in the Carolina pines, the Four Seasons Grill has an extensive patio section and homey, community atmosphere. It's low-stress and casual, with a decently sized dinner menu including Southern steadies like prime rib and pot roast, chicken and dumplings, or their popular crab cakes. Spending the day hiking Rainbow Falls? Stop in here for comfort classics that will get you ready for the next day of adventures. Open for lunch and dinner.
Lakeside Restaurant
(828) 526-9419
www.lakesiderestaurant.info
The patio at this Highlands favorite is so full of Southern charm, it's impossible to resist spending at least one sunset at this destination spot. But don't let the cozy, bright decor fool you, the menu at Lakeside means serious fine dining business. Everything here is a winner, from the Cornmeal Dusted Fried Oysters to the crabmeat-stuffed Rainbow Trout. While the menu is heavily seafood, don't miss the Pan-Fried Chicken, with bacon, mushrooms, tomatoes, tarragon cream, and house made ricotta, or the classic Lakeside Steak-Frites with grilled asparagus.
Meritage Bistro
(828) 526-1019
www.meritagehighlands.com
This 2019 Wine Spectator Award Winner brings elegant European cuisine to the Highlands area in a classically beautiful atmosphere. The intimate patio dining is perfect for a light lunch of Artichoke Hearts and Ahi Tuna Tartare, or sunshine-filled brunch, where you can nosh on Sea Scallop Caponata with Sicilian pan roasted eggplant, Faroe Island Salmon, or Wild Mushroom Risotto. For dinner, try the popular Peekytoe Crab Cakes, made with Parmesan panko crusted sweet lump crab. Meritage is closed Tuesdays, and dinner and brunch reservations are highly recommended.
Mica's Restaurant & Pub
(828) 743-5740
www.micas-restaurant.com
Get the best Blue Ridge dining experience on the expansive open deck of Mica's Restaurant & Pub. Part of Sapphire Valley Resort, this is the perfect place to stop after a day of hiking or riding in the mountains, with a menu that has something for everything. Mom and Dad can get the Prime Rib or Crispy Half Duck with orange and raspberry sauce, while the kids will do backflips over their delicious pizzas and calzones. Stop in for live music, party with the locals, and you'll soon understand why this is the restaurant every hotel clerk recommends.
On the Verandah
(828) 526-2338
www.ontheverandah.com
The name doesn't lie. The best table at this beautiful fine dining destination is one on the deck, next to the waters of Lake Sequoyah while the sun is setting and the fireflies are sparkling. Opening mid-March for the season, reservations are absolutely needed for this North Carolina gem. The view isn't the only reason for their popularity though. Be sure to check out the Heritage Farms Pork Belly Confit with blueberry chipotle drizzle, the Creole Chicken with house cured pork belly and stone ground Parmesan grits, or the Pan Seared Duck with apricot glaze. Be sure to ask for recommendations from their extensive, well-curated wine list too.
Randevu
(828) 743-0190
www.randevunc.com
Getting lunch or breakfast at Randevu is more than just a meal, it's a whole experience. From the charming barn-style compound complete with a happy little pond to the comfortable shady porches, this daytime spot promises good food, great views, and awesome vibes to start your day. For breakfast, try the classic Country Sausage and Gravy Biscuits, or sweet and savory Monte Cristo. Come back for lunch and the fried green tomato BLT, or the Bounty Hunter, barbeque pulled pork piled high on a fresh Kaiser roll. Since this local staple is open year-round, they go out of their way to accommodate both locals and tourists, making this a community spot in every sense of the word.
Sapphire Mountain Brewing Company
(828) 743-0220
www.sapphiremountainbrewingcompany.com
The first reason to come into Sapphire Mountain Brewing is obviously the beer. Their craft Pilsner, Red Ale, Stout, and IPA are all available to take with you in growlers, and they carry a regular rotation of other local brews. But the well-rounded pub menu tempting burgers and wood-fired pizzas will convince you to hang out, and a coveted spot on the back porch overlooking the golf course will give you the perfect mountain view no matter the weather or time of day. If you're not a beer person, there's a great menu of house-created cocktails to keep you happy.
Slab Town Pizza
(828) 743-0020
www.slabtownpizza.com
Sometimes all you really need to make you deliriously happy is the perfect piece of pizza, a good beer, and an awesome screened in porch. Get all of those things plus a fireplace at Slab Town Pizza, a favorite local joint that upgrades their pies with quality ingredients like fresh basil, prime rib, ricotta, and white anchovies. There's plenty for the non-pizza lovers (who?) like a classic Bolognese of pork and beef ragu served with spaghetti and garlic toast, or homestyle Braised Meatballs, as well as several awesome salads. But the pizza is the real star.
Whiteside Brewing
(828) 743-6000
www.whitesidebrewing.com
Next to the Laurelwood Inn, Whiteside Brewing is a wide-open friendly brewery that perfectly encapsulates how much North Carolinians love a good sunny day drinking session. The outdoor seating area offers plenty of shade from the midday sun, while inside is spacious and welcoming. Their award-winning beers on tap usually feature their four year-round favorites and just as many seasonal drafts. Their elevated bar menu includes a wide selection of burgers, hot pressed sandwiches like the Salmon BLT, and lots of tempting salad selections.
Wild Thyme Gourmet
(828) 526-4035
www.wildthymegourmet.com
Looking for an elegant patio that still feels upscale? Wild Thyme offers American fine dining with a good dose of Asian influence. Chef/Owner Dindu Lama was actually executive chef here before buying the restaurant a few years ago. His menu features favorites like Spicy Thai Shrimp and Waterfall Beef stir fry, but you'll also find Bacon Wrapped Quail with a honey sage balsamic reduction, and a Grilled Filet of Beef with pimento cheese and crispy onions. The serious wine lovers will appreciate their extensive wine list.
Wolfgang's Restaurant & Wine Bistro
(828) 526.3807
Chef Wolfgang Green has created a menu that reflects not only his Texas skills but his German background, with entrees designed to make a meat lover stand up and take notice. Get Fresh Local Mountain Trout with a bourbon pecan beurre blanc, Roasted Loin of Lamb, aged in house Black Angus filets, or a Bavarian Sampler featuring bratwurst, knockwurst, kassler, and schnitzel. Splurge on the Chateaubriand for Two, a center cut tenderloin with an assortment of fresh local veggies and sauces. Show up early for the Bistro menu, which features small bites of Oyster Rockefeller and Pecan Crusted Shrimp and snag a prized seat on the patio.