A Thrill on the Hill
04 Feb 2021
Scaly Mountain Outdoor Center becomes first in the nation this winter season to open for snow tubing
By Dawn Liles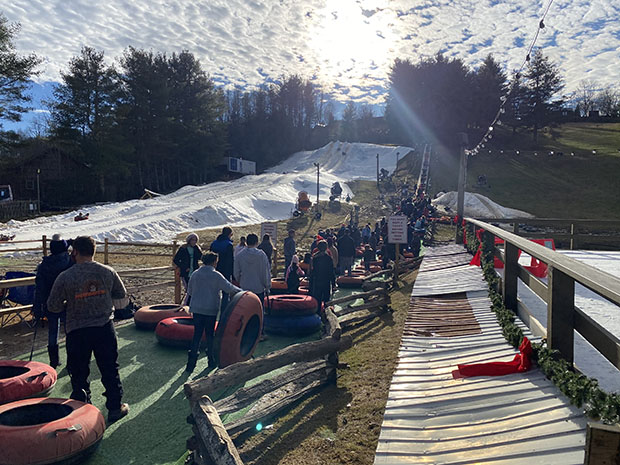 The adrenaline rush of flying down a snow-covered hill while reclining on an inner tube is a delight many of us will never forget. Just south of Highlands, Scaly Mountain Outdoor Center (SMOC) offers that amusement and much more to keep you and your family entertained this winter season.
"We hear from many tourists and outdoor recreational enthusiasts that our tubing hill is one of the best," says Dow Harris, SMOC general manager. "It's like riding a gigantic slide. And it is a type of thrill that does not get old. Every time I ride down, I always feel exhilarated."
Using new snow making technology, SMOC became the first in the nation to open for snow tubing last November. The machine responsible for creating the winter wonderland, SnoFlake, is manufactured by a Canadian company and is one of only five in the world. The machine makes flake ice (irregular particle size ice) inside a frozen chamber and blows the flake ice out the pipes. The large pieces are resistant to warm weather and rain. CHS Snowmakers in Idaho helped connect SMOC with SnoFlake Industries, Inc., the company that makes the SnoFlake machines. Jason Sawin, owner of CHS Snowmakers, is known as Snowman and is a good friend of the staff at SMOC. "Jason is very well known in the snowmaking world," says Harris. "We often buy equipment through Jason's company and utilize his services and advice."
Snow tubing and ice skating are just two of the family-friendly activities offered at SMOC. Open year-round, the center is a destination for visitors from Florida, Georgia and South Carolina as well as North Carolina. "For many people, particularly people coming from Florida and Georgia, we're often the first place they'll see snow this winter," says Harris.
Visitors to SMOC can also enjoy ice skating, a fire pit and a retail market with fudge, candy, games, puzzles, souvenirs and gifts. The newly renovated Annie's Cafe serves lunch and dinner and hosts live music every Friday night. Major renovations to the café include new flooring, wooden beams and doors, fresh paint and renovated bathrooms, plus a new bar area and kitchen with stainless steel components.
"One of the staff members dubbed the new look of the café Country Chic," says Harris. "Our new chef, Will Almstadt, recently moved back to Highlands from Montana and is very versatile and talented."
Lunch options at the café can include Cuban, steak and classic turkey club sandwiches, plus wraps and salads in addition to kids' favorites like chicken fingers and hot dogs. Dinner options have featured calamari and mussels appetizers and may include main courses such as country fried chicken, rainbow trout, baby back ribs and filet mignon. Almstadt likes to keep the menu fresh and fluid, so be sure to check back for weekly variations. He and Harris hope to position Annie's Café as a new niche restaurant on the outskirts of Highlands that is attractive to both locals and tourists.
Although it's a challenging time due to COVID restrictions, SMOC is having a busy season so far, according to Harris. "Fortunately, we're a popular venue, with lots of friends, and it always seems to come together."
Originally from Alabama, Harris came to the plateau in June 2019 from Santa Barbara, CA, where he was running the sales department at a historic horse ranch.
"To say the least, it has been a radical change for me, but also an exciting adventure. There is no place in the world quite like Scaly Mountain. I still have a lot to learn about this operation but feel quite comfortable in the new environment.
"We have plans to build a Wiegand alpine coaster next year and many other things, too. The prospect of getting to oversee and be a part of the team that pulls that off strikes me as a once-in-a-lifetime opportunity and I'm grateful to be here. We have an important mission at this time to provide a retreat for people trying to escape the cities and reconnect with the great outdoors through recreational activities aimed at family fun."