A Royal Flush
03 Feb 2023
Expect the unexpected at The Great Outhouse Races at Ski Sapphire Valley
Story by LISA GRAY YOUNGBLOOD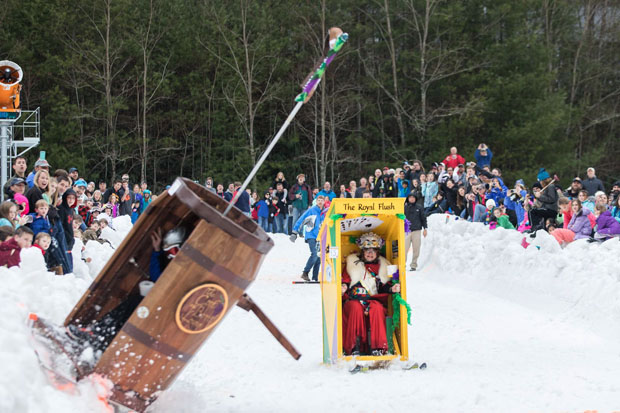 For over a decade, Ski Sapphire Valley has been entertaining the plateau with its Great Outhouse Races, and one thing is certain: you should expect the unexpected. Named a "Top 20" event in the Southeast for February by Southeast Tourism Society, this event is not to be missed.
The Great Outhouse Races began when one of the homeowners, who was a fan of outhouse races, thought it might be fun to have the outhouses raced down a hill instead of pushed along a flat road as is the norm. "And snow," chuckles Steve Martell, the Director of Amenities at Ski Sapphire Valley Resort and the former General Manager and Golf Pro at Sapphire National. "Snow always makes things better."
And so, the first Outhouse Race was born. This may be the only outhouse race on snow in the country and is certainly the only one in North Carolina, and its uniqueness draws crowds from across the Southeast. "When we first started," says Martell, "we probably had 100 or so spectators, but after we moved the race to President's Day weekend, we began to draw crowds of up to 3000. It is a sight to see - everyone cheering from the sidelines, the hilarity and creativity of the outhouses. It is a day the entire family will remember."
This year's race will be held Saturday, February 18 at Ski Sapphire Valley Resort with an afternoon of food, drink and live entertainment, including performances by The Jackson Taylor Band and live music after the races at Slopeside Tavern. Festivities begin at 11:30 and run to 5:00 p.m. The actual race will begin at 3 p.m.
In case you don't already know, outhouse races are literally just that: a race of hand-made "outhouses" along a set course. Homemade Outhouses can be made of anything that sparks your imagination - wood, cardboard, plastic, or any other homemade items. Each outhouse must have a seat with at least one hole (window) and a roll of toilet paper, or alternative wiping source.
At the beginning of each race, the outhouses are pushed by two team members, while one team member sits inside on the toilet, affectionately referred to as the "throne." The outhouse must then make its own way down the hill and across the finish line. Once a team loses two races, it is eliminated from the competition.
Seeing the entries is one of Martell's favorite aspects of the races. "Every year there is something new, something that sets the whole crowd to laughing." He remembers with particular fondness the Fred Flintstone Car outhouse, The Royal Flush outhouse with its cards and queen sitting on the throne, and even a few of his own making. At the request of his grandson, who is now a sophomore at Boston College, Martell made an outhouse inspired by Thomas the Tank Engine and another inspired by dogs and fire stations. The latter is called the Canine Urination Station. It is the longest running and most winning of all the outhouses, and The Cashiers-Highlands Humane Society is quick to grab it up every year. "If you don't have an outhouse of your own but would still like to race, that's no problem," Martell explains. "The Resort has many outhouses from former races for rent," including the two he made.
Although Martell will tell you that everyone who attends and races wins, the races will have an official winner and runner up, who will receive specially made Toilet Trophies. There will also be a People's Choice Award as well as awards for Best Constructed, Most humorous, and Best Theme. The latter awards are determined by a committee of three, and winners will receive Toilet Bobbleheads, a coveted keepsake.
Entry for a homemade outhouse is $100, and entry for a rented outhouse is $125. Net profits from these fees, along with money made from the sale of food and beverages, will go to the Fishes and Loaves Food Bank of Cashiers. For attendees, the event is free, so grab the family and join the festivities for a day no one will soon forget.
The Great Outhouse Races at Ski Sapphire Valley
President's Day Weekend, Saturday, February 18, 2023

Schedule of Events
11 a.m. Special Food Service
BBQ and Hotdogs sold by The Rotary Club of Cashiers Valley and a full bar and menu at Slopeside Tavern. You may also bring your own picnic. There are grills near the firepit if you would like to cook out.
11:30 – 2:30 p.m. - Jackson Taylor Band
1:30 p.m. - Outhouse Check In
2:30 p.m. - Static Parade
3 p.m. - Races Start
3:30 - 5:00 p.m. – Live Music at Slopeside Tavern