Summer Tasting Tour
05 Aug 2021
Invite the world over for a backyard BBQ
photos and recipes by Kim Byer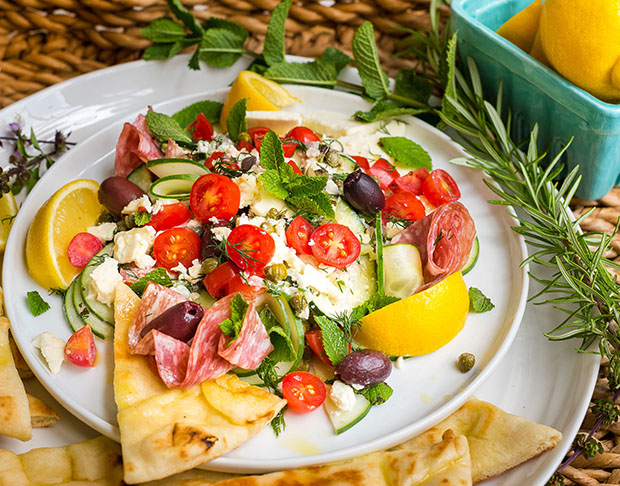 Picture yourself poolside in your best post-pandemic body, sipping on a salty margarita and nibbling on Puerto Rican fried plantains. Are you longing for an exotic escape this summer? If only you could find your passport, or your actual waistline.
No need to brave the airport – we have you covered. Our Greek Island-inspired Tzatziki Cucumber Salad is a light refreshing lunch that will soar to the top of your summer rotation. And when you're ready to kick the backyard cookout up a spicy notch, brave our Korean BBQ.
Need to put out the BBQ fire? Non c'è problema! Our creamy cold Nutella-Marshmallow Gelato is your instant ticket to the Mediterranean. Better yet, one spoonful of our Norwegian Summer Sponge Cake will lighten your mood like an aurora borealis. After all, when you lounge beneath the friendly skies of your own backyard, there is no grander escape than a homemade margarita and a giant slice of the World's Best Cake.
Tzatziki Cucumber Salad
with salami and toasted naan
Serves 4 as a side salad
1 large cucumber, seeded then grated, with excess water squeezed out
1 large cucumber, seeded, halved and sliced thin
5 ounces plain skyr or Greek yogurt
1 large ripe tomato (or 2 dozen grape tomatoes), chopped
20 pitted Kalamata olives
2 ounces crumbled feta cheese
2 heaping tablespoons capers
Juice of 1 lemon
1 teaspoon Greek seasoning (e.g., blend of garlic, sea salt, onion, oregano, marjoram, mint, orange peel, pepper)
1 garlic clove, minced
Small handful of fresh dill and mint, chopped
1 ounce dry salami slices (such as soppressata), chopped (optional)
Sea salt and freshly ground pepper to taste
1/2 naan or flatbread per person
Grate 1 cucumber into a large bowl. Squeeze excess water out and drain, then add sliced cucumber, skyr, tomato, olives, feta, capers, lemon juice, Greek seasoning, minced garlic, and herbs (and salami, if desired). Mix thoroughly.

Top with more feta crumbles and herbs. Serve in shallow bowls with warm or toasted naan triangles. Or, chill for several hours until ready to serve. Salad weeps as it sits or is chilled so use a slotted spoon when serving.
Sun-Kissed Margaritas
Serves 2
Margaritas
3 ounces good-quality gold tequila
1 ounce dry curaçao (orange French liqueur—recommend Pierre Ferrand brand)
¾ ounce agave syrup
3 medium-sized limes, juiced (about ¼ cup)
Crushed ice (recommend Sonic's ice)
Margarita salt or coarse kosher salt for rims
1 small jalapeño, sliced into rounds (optional)
Combine tequila, dry curaçao and agave in a cocktail shaker. Using a lime squeezer, juice the limes into the liquid. Fill shaker with ice and shake vigorously for 45 seconds.

Wet glass rims by running a wedge of lime (or a wipe of agave) around the lip. Turn glass upside down and dip rim in margarita salt.

Strain equally among two glasses and add more crushed ice.
Tips: Lime squeezers make margarita-making easier as does the Sonic drive-thru, where a large bag of perfectly crushed ice costs around $2.
Twice Smashed, Twice Fried Tostones
with a garlicky rosada salsa
Makes approximately 2 dozen
Rosada Salsa
1 cup ketchup
1 tablespoon mayonnaise
1 garlic clove, minced
Tostones
3 cups water
1 tablespoon kosher or sea salt
Juice of 1 lime
1 garlic clove
3 large green plantains
1 cup of heat-tolerant oil
Coarse sea or kosher salt
In a small bowl, mix the 3 dip ingredients. Chill until needed.

Prepare water in a large bowl or shallow pan with salt, lime juice and garlic clove.

Peel a plantain. First, cut off both ends, then using a sharp knife, make lengthwise slits in the skin along all sides, being careful not to slice into the plantain. Peel off outer skin and carefully cut away any remaining peel. Slice the plantain into 3/4" diagonal ovals and place into the salty water. Repeat for other plantains.

Bring oil up to medium heat in a large frying pan. Pat 8-10 plantain ovals dry and place in between two sheets of wax or parchment paper. Using a flat-bottomed cup or the flat side of a meat mallet, gently smash each oval. The ovals will have very little give at this point. Fry ovals, turning once until they are a soft golden color. This will take no more than one minute. Remove with a slotted spatula onto paper towels to drain.

While they are still hot, place them between two more sheets of wax paper and smash again. There will be a lot more give at this point. Flatten as best you can.

Bring heat up to medium-high and re-fry tostones, turning once, until they are golden brown and crispy, usually 2 to 3 minutes. Remove tostones to paper towels and salt immediately. Turn heat down to medium.

Repeat steps 4-5. Serve the first batch of hot tostones with the dipping sauce immediately or reserve in a warm oven until all three batches are finished.
Make ahead: Dipping sauce and plantains can be prepared ahead of time up until Step 4. Plantains can soak for several hours before drying, smashing, and frying.
Grilled Korean-inspired BBQ
with grilled sirloin, lettuce wraps, and rice
Serves two
One large sirloin or ribeye steak (6-to-10-ounce)
Marinade (enough for 2-3 steaks)
2 teaspoons sesame seeds, toasted
1 Asian pear, cored and roughly chopped
½ cup soy sauce (or tamari)
3 tablespoons toasted sesame oil
3 garlic cloves, peeled and roughly chopped
2 green onions, roughly chopped
3 tablespoons grated fresh ginger
2 tablespoons brown sugar
1 tablespoon oil (any light vegetable oil)
¼ teaspoon freshly ground black pepper
For the BBQ
Grilled sirloin, sliced thin

Green or red leaf lettuce head, leaves separated, then rinsed and dried

Dipping sauce like gochujang (find it in upscale groceries or Asian markets—it's very spicy!)

Rice

Napa cabbage kimchi

A small bowl of coarse salt and pepper mixed with sesame oil

Ice-cold cucumber slices marinated in rice vinegar and sugar or other pickled vegetables
If needed, gently toast sesame seeds for several minutes in a hot, dry skillet. Then, add all marinade ingredients to a food processor or blender and blend until it forms a thick liquid.

Marinate steak for several hours or overnight.

Meanwhile, prepare the rice, lettuce wraps and any additional small bowls of side dishes.

Prepare a high-heat grill (500+°F) and quickly sear the steak on both sides. Rare to medium-rare (red-to-pink inside) tastes best.

Slice the steak in thin strips on the diagonal. Enjoy by wrapping each slice in a lettuce leaf and dipping into gochujang sauce or sesame oil or pairing with the rice or any of the sides.
Nutella Marshmallow Gelato
A simple Italian-style, no-churn frozen dessert
Makes approximately 1 quart
1-pint heavy whipping cream
1 14-ounce can sweetened condensed milk
¼ cup Nutella
1 teaspoon good-quality vanilla extract
1 cup mini marshmallows
For toppings, try sliced almonds, fresh fruit, and/or a crushed chocolate bar
Place mixing bowl and heavy whipping cream in the freezer for 5 minutes. Then assemble mixer and beat heavy whipping cream until stiff peaks form.

In a large bowl, whisk condensed milk, Nutella and vanilla together. Add marshmallows and gently stir again. Using a spatula, gently fold whipped cream into liquid. Don't overmix.

Ladle into a freezer-safe container or paper cups. Cover and freeze for at least four hours.
Norwegian Summer Sponge Cake
a.k.a. The WORLD'S BEST CAKE!
layered with meringue, whipped pudding and piled with summer fruit
Makes one 6" x 8" rectangular multi-layer cake
Cake
8 tablespoons high-fat butter, softened
1 cup sugar
4 large egg yolks, room temperature (save whites!)
1 cup all-purpose flour
1 teaspoon baking powder
4 tablespoons whole milk
Meringue
4 large egg whites
1 ½ cups sugar
½ teaspoon lemon juice
A handful of sliced almonds
Whipped pudding & Toppings
3.4-ounce box instant vanilla pudding
1 cup whole milk
8 ounces frozen whipped topping, thawed (divided use)
Fruit—any combination of peaches, strawberries, blueberries, kiwi, raspberries, mango, cherries, etc.
Pre-heat oven to 350°F. Prepare a 13" x 9" glass baking dish with baking spray and parchment paper.

In a mixing bowl, cream butter and sugar until fully incorporated. Then in a small bowl, mix flour and baking powder and slowly fold this into creamed mix by hand. Add milk and gently mix again, by hand. Using a spatula, spread batter into baking pan. Clean mixing bowl and place in the freezer.

When mixing bowl has chilled, beat egg whites with a whisk attachment, on high until thickened. Slowly add sugar and continue to whisk on high until stiff peaks form.

Smooth meringue on top of batter, sprinkle almonds on top of meringue, and bake for 30 minutes.

Meanwhile, prepare fruit by rinsing, peeling, coring, slicing, etc. If any fruit is subject to browning, toss with a few squeezes of lemon. And in a medium bowl, whisk dry pudding and (only!) 1 cup of milk. Gently fold in half of the whipped topping.

When cake has cooled completely, remove from pan and cut in half to make two smaller rectangular cakes. Then, cut the floppy meringue sides off to make 2 uniform-sized cakes.

Put one on a platter and spread 1/2 of the pudding mixture on top. Add a layer of fruit, the second cake, and the remaining whipped pudding. Chill for 1 hour.

Before serving, add a large dollop or two of the remaining whipped topping and arrange more fruit on top and around the cake. Cake will last up to 4 days in the refrigerator.