Happs Place Barn and Gril
04 Apr 2022
More than just a place to eat
By Mandy Murry
Photos By Chelsea Cronkrite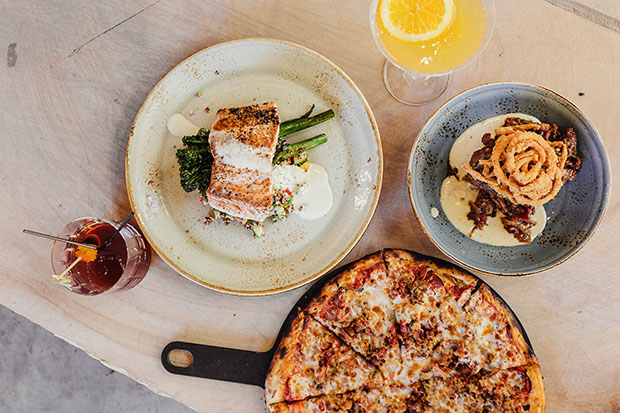 Spring is here, and the place to gather with friends and family is Happs Place Barn and Grill in Glenville. Wood-fired pizza and a menu that changes weekly offer a unique go-to for lunch or dinner serving elevated Southern fare. Lunch is served window-service style, while dinner is full-service and sit down. Dinner sides are served family-style, offering everyone a chance to taste the culinary delights.
Western North Carolina mountains are known for trout, and this local fish is typically a staple on the menu. With a weekly rotation of the menu, please know it may not always be available. Other favorites of past menus include the wagyu sirloin and the brick chicken. Vegetables are always farm-fresh. The state-of-the-art wood-fired pizza oven creates some incredible pies! Maggie Klemm, one of Happs' bartenders, suggests trying her top pick for pizza, The Queen Margarita ($15), made up of San Marzano tomato sauce, extra virgin olive oil, fresh mozzarella and basil. And of course, you can't go without ordering the signature happy sticks, house-made garlic sticks.
Happs is more than a place to eat. It is a piece of Glenville's history rebuilt, providing a sense of community. There is something for everyone and many spaces to enjoy on-site, offering private and social settings. The restaurant is derived from the Old Happs' 1960 restaurant block building, a roomy 40-seat restaurant, the Moody house and the historical 1950s Oliver's Lake Glenville red cabin and barn. Pieces of each building have been artistically incorporated into every aspect of the design of the new Happs Place. The front door is the red cabin's original front door, and the flying saucer light fixtures also date back to the mid '50s-'60s red cabin interior. The bar is constructed of the Moody house's hemlock and now-extinct American chestnut and shingles dating back to 1889 from the house for the bar tin ceiling and bandstand roof. The main entrance door handle cowbell is original to Happs/Brown Skillet's entrance door.
The place oozes in nostalgia. The barn has been converted into a private dining room for 12. Consider gathering all your friends or family for a meal prepared by someone else, complete with the space to move about outside.
Outdoor yard games, such as Jenga and cornhole, provide activities for all. The yard is Astroturfed and offers a putting green and also plays host to many live concerts. To be in the know of music and events, sign up for Happs' monthly newsletter showcasing all their happenings, and of course, follow on Instagram @happsplace. Nothing gets much better than enjoying spring and summer days in the yard. Stay in the know about their five-course wine pairing dinners.
The bar is recognized as well-stocked with 25 single malt bourbons and 75 wine bottle selections to choose from. There is also a nice selection of craft cocktails. Maggie recommends the Sparkling Charleston Cosmo, while general manager, Derek Franks, suggests the Sweet Tea Margarita.
Happs Place is currently open Wednesday through Sunday from 11:00 a.m. - 9:00 p.m.
5914 North Carolina Highway 107
Glenville, NC
(828) 743-5700
Happsplace.com